Summer 2012 Table of Contents
Comiques by Anne Emond
_____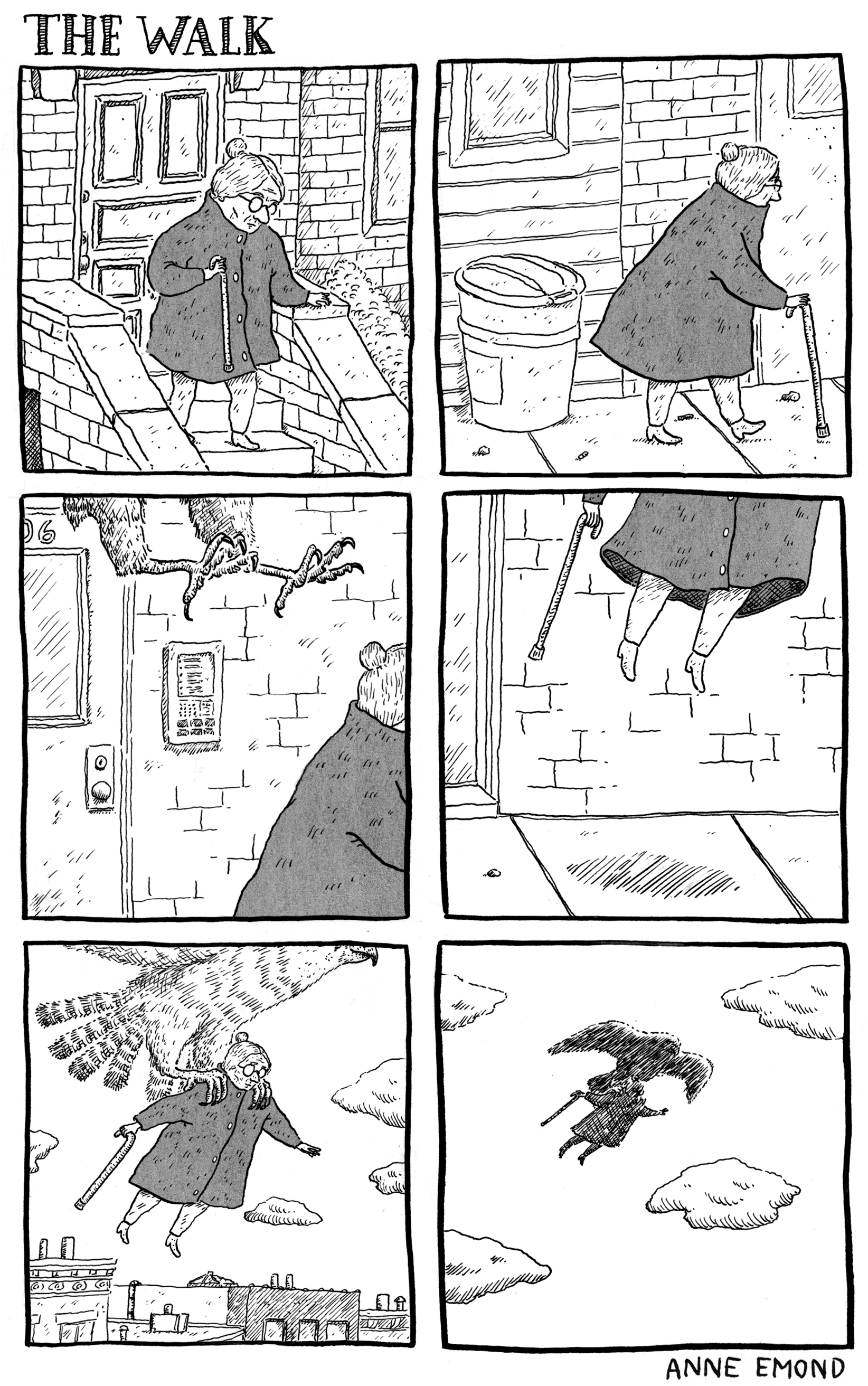 _____Comics
Dendrochronology by John A. Nieves
_____They were mining for time, but time was not cooperating.
_____Poetry
Dowsing by Gwendolyn Jensen
_____Soft and slow, the water moves,/Comely, cool, it lingers
_____Poetry
Step in (City Lines) by Fort Frances
_____Jukebox
Phosphorescence by Amanda Fields
_____Very hadn't felt the same way as other mothers, the way everyone says you're supposed to feel
_____Fiction
Repeat Live Capture by Brad Clompus
_____ When you get/
to the field by the river,/
open the lid, expect/
anything.
_____Poetry
On Deadlifting by Brian Furuness
_____I'm not a big man, but I have a powerful ass. This makes it hard to shop for pants, but it also makes one hell of a fulcrum
_____Nonfiction
Tropic Troping Bird by Stephen Massimilla
_____ Our regard for each other a series/of seconds raring/
to stare and stare.
_____Poetry
Plainsong by Hope Mohr
_____Dance
Water-bearing by Ashley Keyser
_____ The broad bronze women need no one/
now to save them, unremarked-on/
as anything else aging in public spaces.
_____Poetry
To a Girl by Rachel Marie Patterson
_____ In the end, what we were given/
was not only violence.
_____Poetry
Killing Time by Zephaniah Bostow
_____Jukebox
Cul-de-Sac and Vine River by F. Daniel Rzicznek
_____ The map is a hunger for dimension,/
what meaning becomes becomes meaning
_____Poetry
Hoverboard by Sydney Freeland
_____Film
Drive by Thomas Donovan
_____Jukebox
Destruction Myth and David and the Anatomical Venus by Emma Sovich
_____In these their last days alive, the workers bit at the remaining honeycomb, chewing it to soften it then spitting it out.
_____Poetry
Mother: An Aggadah and Damage Ready by Sarah Marcus
_____Kirsten strokes my hair and says,
/ maybe you were put on this earth for your mother
_____Poetry
The Stars in Illinois by Dallas Woodburn
_____Eleanor believes friendships are a matter of convenience and circumstance
_____Fiction
Dream of Adolescence by Leanne Chabalko
_____ In the field I find sick bottles and arrowheads/
I see an elk rub antlers across a chokecherry tree
_____Poetry
A Story We Might Follow by Joe Wilkins
_____ We shoe up and slip down drifts,/wend our slow way through oak/and heavy-headed sumac
_____Poetry
An Interview with Alicia Ostriker by Melissa Cundieff
_____The writer, the poet, can experience himself/ herself as a vessel the wind of the spirit blows through.
_____Interviews
Pantoum from Wilson Pickett Interview by Harold Whit Williams
_____After mother knelt down & hollered for my soul/ She'd hit me with anything – skillets & stove wood –
_____Poetry
The Wrong Side of Rapture by Traci Brimhall and Eryn Cruft
_____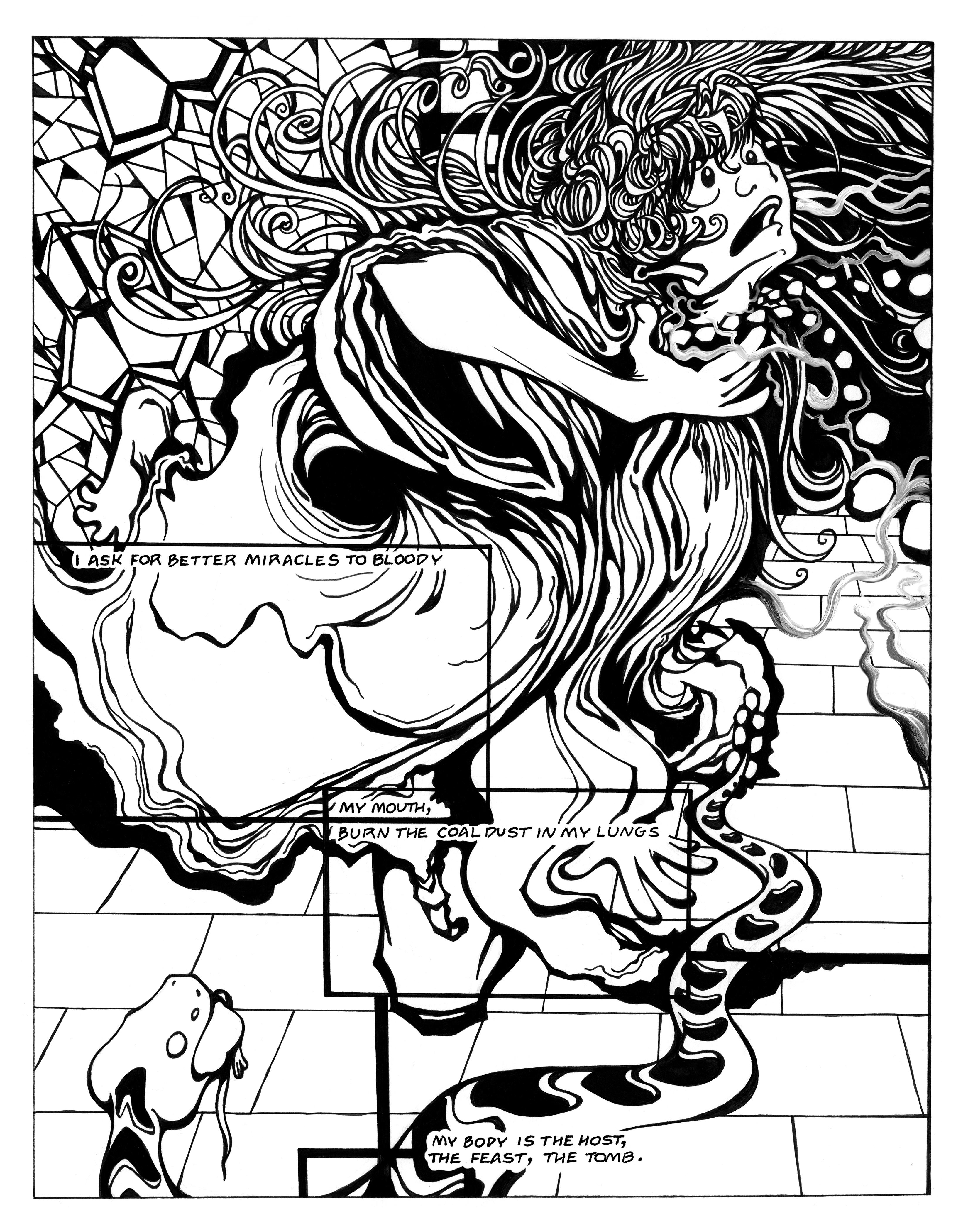 _____Comics
Jake by Jonathan Brown
_____ We all become dust, but some of us just enjoy being swept away.
_____Poetry (Oral)
Strange Victory, Strange Defeat by Jeff Alessandrelli
_____ Invisible hands,/ invisible arms, invisible feet,/the snake rises up
_____Poetry
The Eye by Mike Meginnis
_____Ben was back from the war and he had a purple heart. Nobody agreed on where or how severely he had been wounded.
_____Fiction
Cover Art "Thread" by Pickles!, Master Obsessor and Creator of Fantastical Things