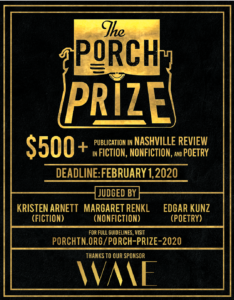 We are pleased to present the winners of the 2020 Porch Prize! Judges in the three categories for 2020 were as follows: Kristen Arnett (Fiction),  Margaret Renkl (Creative Nonfiction), and Edgar Kunz (Poetry). For information on the 2021 Porch Prize, please visit porchtn.org in fall 2020 for updated information.
---
2020 Porch Prize in Poetry Winner:
Kevin Norwood, "Visiting Our Mother"
Finalists: Chance Chambers, David Landon
Poetry Judge: Edgar Kunz
Edgar Kunz is a writer from New England and author of the poetry collection Tap Out (Mariner / Houghton Mifflin Harcourt, 2019), a NYT New & Noteworthy book. His work has been supported by fellowships and awards from the National Endowment for the Arts, the Academy of American Poets, the Bread Loaf Writers' Conference, the MacDowell Colony, and Stanford University, where he was a Wallace Stegner Fellow. He lives in Baltimore, Maryland, where he is a Visiting Assistant Professor at Goucher College and teaches in the Newport MFA program at Salve Regina University.
---
2020 Porch Prize in Fiction Winner:
Hilary Bell, "Dial Tone"
Finalists: Sandee Gertz, Alease Robertson
Fiction Judge:  Kristen Arnett
Kristen Arnett is the NYT bestselling author of the debut novel Mostly Dead Things (Tin House, 2019) which was listed as one of The New York Times top books of 2019. She is a queer fiction and essay writer. She was awarded Ninth Letter's Literary Award in Fiction and is a columnist for Literary Hub. Her work has appeared at The New York Times, North American Review, The Normal School, Gulf Coast, TriQuarterly, Guernica, Buzzfeed, Electric Literature, McSweeneys, PBS Newshour, Bennington Review, The Guardian, Salon, The Rumpus, and elsewhere. Her story collection, Felt in the Jaw, was published by Split Lip Press and was awarded the 2017 Coil Book Award. She is a Spring 2020 Shearing Fellow at Black Mountain Institute. Her next two books (Samson: A Novel and With Foxes: Stories) will be published by Riverhead Books. You can find her on Twitter here: @Kristen_Arnett
---
2020 Porch Prize in Creative Nonfiction Winner:
Barbara Mode Courtney, "Unplanned"
Finalists: Kate Stone, Kate Parrish

Creative Nonfiction Judge: Margaret Renkl
Margaret Renkl is the author of Late Migrations: A Natural History of Love and Loss. She is also a contributing opinion writer for The New York Times, where her essays appear each Monday. Her work has also appeared in Guernica, Literary Hub, Oxford American, River Teeth, and The Sewanee Review, among others. A graduate of Auburn University and the University of South Carolina, she lives in Nashville.