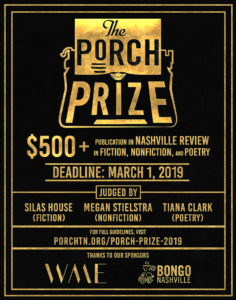 We are pleased to present the winners of the 2019 Porch Prize! In this, its inaugural year, the contest received more than 200 submissions in fiction, poetry, and creative nonfiction. Judges in the three categories for 2019 were as follows: Silas House (Fiction), Megan Stielstra (Creative Nonfiction), and Tiana Clark (Poetry). For information on the 2020 Porch Prize, please visit porchtn.org in fall 2019 for updated information.
---
2019 Porch Prize in Poetry Winner:
Annette Sisson, "Fog"
Finalists: Kelly Cass Falzone, Georganne Harmon
Poetry Judge: Tiana Clark
Tiana Clark is the author of the debut poetry collection, I Can't Talk About the Trees Without the Blood (University of Pittsburgh Press, 2018), winner of the 2017 Agnes Lynch Starrett Prize, and Equilibrium (Bull City Press, 2016), selected by Afaa Michael Weaver for the 2016 Frost Place Chapbook Competition. Clark is the winner of a Pushcart Prize, as well as the 2017 Furious Flower's Gwendolyn Brooks Centennial Poetry Prize and 2015 Rattle Poetry Prize. She was the 2017-2018 Jay C. and Ruth Halls Poetry Fellow at the Wisconsin Institute of Creative Writing. Her writing has appeared in or is forthcoming from The New Yorker, Poetry Magazine, Kenyon Review, American Poetry Review, New England Review, Best New Poets 2015, and elsewhere. Clark is the recipient of scholarships and fellowships to the Bread Loaf Writers' Conference, Sewanee Writers' Conference, and Kenyon Review Writers Workshop. Tiana grew up in Nashville and southern California. She is a graduate of Vanderbilt University (M.F.A) and Tennessee State University (B.A.) where she studied Africana and Women's studies. She teaches creative writing at Southern Illinois University at Edwardsville.
---
2019 Porch Prize in Fiction Winner:
Ernie Reynolds, "The Marine"
Finalists: Hilary Bell, Madelyn M. Brown
Fiction Judge:  Silas House
Silas House is the nationally bestselling author of five novels—Clay's Quilt, 2001; A Parchment of Leaves, 2003; The Coal Tattoo, 2005; Eli the Good, 2009; and Same Sun Here (co-authored with Neela Vaswani) 2012—as well as a book of creative nonfiction—Something's Rising, co-authored with Jason Howard, 2009; and three plays:  The Hurting Part (2005), This Is My Heart for You (2012), and In These Fields, with Sam Gleaves, 2016. His work frequently appears in The New York Times and Salon.  He is a former commentator for NPR's "All Things Considered". His writing has appeared in Oxford American, Narrative, Blackbird, Newsday, as well as in anthologies such as Best Food Writing, 2015 and New Stories From the South, The Year's Best: 2004.  House serves on the fiction faculty at the Spaulding MFA in Creative Writing and as the NEH Chair at Berea College. He is a member of the Fellowship of Southern Writers, the recipient of three honorary doctorates, and is the winner of the Nautilus Award, an EB White Award, the Appalachian Book of the Year, the Jesse Stuart Award, the Lee Smith Award, and many other honors.
---
2019 Porch Prize in Creative Nonfiction Winner:
Lindsey Krinks, "The Transfiguration of Horace"
Finalists: Joanna Brichetto, Judy Anne Wilson

Creative Nonfiction Judge: Megan Stielstra
Megan Stielstra is the author of three collections: The Wrong Way To Save Your Life, Once I Was Cool, and Everyone Remain Calm. Her work appears in the Best American Essays, New York Times, Chicago Tribune, Poets & Writers, Tin House, Guernica, Catapult, Lit Hub, Buzzfeed Reader, PANK, The Rumpus, and elsewhere. A longtime company member with 2nd Story, she has told stories for National Public Radio, Radio National Australia, Museum of Contemporary Art, Goodman Theatre, Steppenwolf Theatre, the Neo-Futurarium, and regularly with The Paper Machete live news magazine at The Green Mill. She is currently an artist in residence at Northwestern University. She lives in Chicago with her husband, their kid, and Mojo the dog.