A bluegrass quintet based out of Asheville, North Carolina, Steep Canyon Rangers incorporate elements from classic country to honky-tonk to the blues. Steep Canyon Rangers released Deep in the Shade, their fourth album, in 2009. In addition to serving as the touring and back-up band to Grammy winning banjoist and artiste extraordinaire Steve Martin, Steep Canyon Rangers has developed a large following all their own as they continue to dazzle bluegrass festivals, the jam band circuit, and rock & roll venues. "There Ain't No Easy Street," featured here, is from Deep in the Shade. www.steepcanyon.com
Charles Humphrey III, bassist and one of the songwriters for SRC, participated in the interview. His side project, Songs from the Road Band, has released two albums, written entirely by Humphrey.
***
Interviewer: You seem to be interested in the way Bluegrass music lends itself to the blues.  You even have a cover of Lead Belly's "Sylvie" on your new record.
Humphrey: Bluegrass draws from many styles of music. Blues is definitely one of them. Bill Monroe seemed to incorporate the blues into his mandolin compositions. We recorded "Sylvie" because Woody listened to that song a lot growing up and his mom really liked it. We were looking for an acapella piece for the record and it worked. Steel Canyon Rangers has also drawn heavily from honky tonk. We had a number 1 with Jerry Chestnut's "One Dime At A Time."  In Deep In The Shade, "I Thought That She Loved Me" has that same honky tonk feel.
Interviewer: You just released your fourth album, Deep in the Shade.  What was your intention for this album?
Humphrey: We picked up where we left off, using the same engineer and producer as Loving Pretty Women, so we were comfortable in the studio. The goal always seems to be "make a better record than the last." We had a lot of strong original material to pull from and Ronnie Bowman helped us narrow it down to 12 songs that seemed to work together. This record seems to have more folk/songwriter material than previous records. But it seems to be getting a good response. "The Mountain's Gonna Sing" was selected by NPR as one of the top 10 songs of 2009. And currently there are three songs off the album on the Bluegrass Unlimited's top 30 Bluegrass chart.
Interviewer: I know that you write or co-write some of the SRC songs.  What is the songwriting process like for you?
Humphrey: I generally set aside specific times in the week, usually in the morning, to write by myself or co-write with other writers. I usually write on the guitar. I like to take what I hope or think is an original enough idea and get a strong chorus. If I can get a chorus that is "hooky" enough, or one that I really like, the song will usually unfold from there.
Some of the writers I recently enjoyed co-writing with are Phillip Barker and Johnathon Byrd. We've done a lot of bluegrass stuff, but lately have been getting into writing country stuff too. Those songs lend themselves to a whole different formula, so that has been fun. With the bass I'll usually throw down an electric bass line, just because it's easier to do while a co-writer lays down the guitar. Just about all my writing is done on guitar though.
Interviewer: How has touring and playing with Steve Martin enhanced your music?
Humphrey: The band has really enjoyed learning Steve's music. His songs are very intelligent and lots of fun to play.  It's refreshing to get outside of our own material and really concentrate on learning new stuff. Steve is such a focused and creative person that he is inspiring to be around.  He is always writing new songs, and practicing nonstop.  In fact SCR and Steve are recording a record together in Asheville this August.
Interviewer: Do you feel a new need to be funny on stage?
Humphrey: We've always had a little humor on stage to keep the show rolling and the crowd alive. The biggest thing I've learned from Steve about being funny is not to be campy. Use intelligent humor and your audience will appreciate. There's no need to stoop to "hee haw" jokes. That kind of humor takes the respect out of bluegrass. You don't have to use "dumb redneck" or "good ole boy" stereotypes to get a laugh. That's degrading. Respect your audience and respect the music.
Interviewer: Do you have a favorite Steve Martin story you can share?  From the tour bus, or on stage?
Humphrey: Steve usually flies, while we ride the bus. But sometime he'll ride the bus. Then we pick the whole time. A lot of songwriting and banjo playing takes place on that bus.
But one of my favorite Steve Martin stories is from Hardly Strictly Bluegrass last year in San Francisco. It's a windy day, and we're on stage in front of the biggest crowd of our life. You can't see the back of the audience—it seems to go on forever. Steve's hat blows off his head, and Nicky catches on his fiddle bow. Instead of handing it to Steve, Nicky throws it out toward the audience.  But the hat blows back toward the stage—and Steve catches it! In front of probably 50,000 people. The next morning we see a picture of him catching the hat on the front page of the San Francisco newspaper.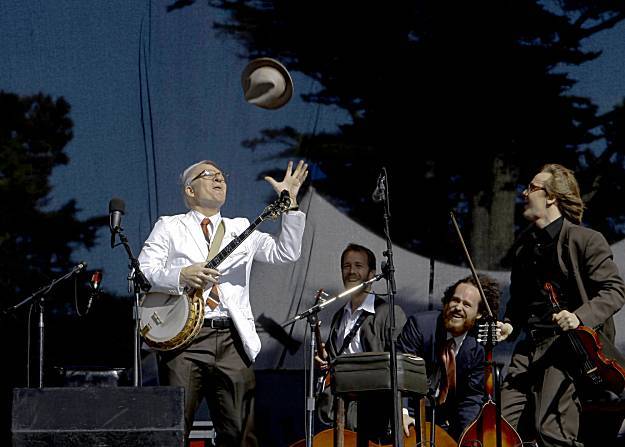 Interviewer: Being from Los Angeles, I have to ask: what was it like playing at the 1st annual Los Angeles Bluegrass Situation festival in March? How were the Los Angeles fans?
The Bluegrass sitch was awesome. Ed Helms of The Office and The Hangover kind of organized the whole thing, along with the Café Largo. They had different acts every night for four or five days, which usually got people up to jam at the end of the night. Ed is a good banjo player. SCR performed alone, and with Steve Martin, who is no stranger to LA. The crowd seemed to love all the shows and there where amazing pickers just hanging out every night to jam. Brian Sutton, Chris Eldridge, Noam Pickelny, and many other top of the bluegrass industry professionals!
Interviewer: How about playing at Jazz Fest?
Humphrey: The huge outdoor festivals are different from playing the inside concert halls. There are more distractions outside, with huge numbers of people. Sometimes the comedy or slow songs might not go over as well as they do in a more intimate setting—but that is not always the case.
Jazzfest and Merlefest we were looking out at 20,000 plus people from the stage. That is exciting in itself. The sets went great and the band had a blast. We'd been touring for three weeks, playing every night, so the band was tight. By that point you just take the stage, have fun, and do your show.
Listen to Steep Canyon Ranger's There Ain't No Easy Street