Symposium 2022 (November): Reimagining the Rules of Evidence at 50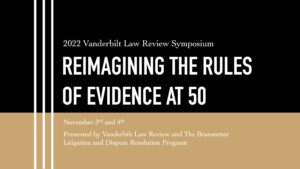 Vanderbilt Law Review and The Branstetter Litigation and Dispute Resolution Program will be hosting the 2022 Vanderbilt Law Review Symposium, "Reimagining the Rules of Evidence at 50," on Thursday, November 3, and Friday, November 4, 2022.
November 2022 marks the 50th anniversary of the original adoption of the Federal Rules of Evidence by the Supreme Court. The Federal Rules of course embody evidentiary traditions and ideas from decades and centuries past, but much has changed since their adoption in our understanding of psychology, epistemology, and other fields related to evidence and proof. This symposium therefore endeavors to take a fresh look at what evidence law might be. What might the evidence rules look like if we were not beholden to tradition or even the cumbersome rulemaking process? Are there rules that would be more empirically defensible and more likely to lead to fair and accurate outcomes? Should the rules stay focused on the (ever-vanishing) trial, or should they be re-envisioned with a broader context in mind?
The speakers for this symposium have all suggested fundamental ways of rethinking the evidence rules over the last decade, and will be sharing how they might reform the rules in their areas of expertise. The symposium promises to be packed with new ideas and lively discussion.  Looking forward, our hope is that it will kickstart a broader conversation about the future of evidence law, and perhaps provide a blueprint for research in the years to come.
Schedule:
Thursday 11/3
3:45                 Welcome
4:00 – 4:45       Admissibility and Proof
Jeff Bellin, William & Mary Law School, Superfluous Rules
Mike Pardo, Georgetown University, Burden of Proof
5:00 – 5:45       Thinking Beyond the Federal Rules
Henry Zhuhao Wang, Indiana University Bloomington, Alternatives to the Federal Rules
Maggie Wittlin, Fordham University, Bench Trials (1101)
Friday 11/4
9:00 – 9:45         Breakout Brainstorming Session I
10:00 – 10:45    Modern Forms of Evidence
Tim Lau, Federal Judicial Center, Pictures Only
Andrea Roth, University of California, Berkeley, Machines
11:00 – 11:45     Privileges and Hearsay
Rebecca Wexler, University of California, Berkeley, Privileges (501)
Justin Sevier, Florida State University, Hearsay (801)
12:00                Lunch Break
1:00 – 1:45       Relevance Doctrines I
Teneille Brown, University of Utah, Removing the Male Gaze of the FRE (403)
Julia Simon-Kerr, University of Connecticut, Character (404)
2:00 – 2:45        Relevance Doctrines II
Bennett Capers, Fordham University, Rape Shield (412)
Anna Roberts, Brooklyn Law School, Character and Convictions (609)
3:00 – 3:45       Breakout Brainstorming Session II
3:45                 Wrap-Up
4:00                 Conference Ends
Speakers and symposium attendees are invited to attend the schoolwide Blackacre event from 4:00 – 6:00 PM