Off the Page Podcast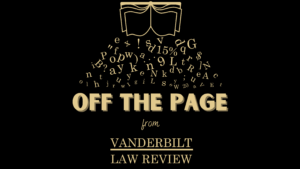 Vanderbilt Law Review is proud to present our official podcast, Off the Page! For every published edition of our journal, we will also publish an episode of Off the Page in which we interview one of the authors whose work appears in that edition. Through our discussions with some of the best legal minds, we will highlight important developments and aspects of the law.
You can find the podcast at the following links:
Our debut episode features Professor Deborah Archer from NYU School of Law. Her article, "White Men's Roads Through Black Men's Homes": Advancing Racial Equity Through Highway Reconstruction, explores the history of our country's highway system, the little-discussed racial discrimination and negative impacts surrounding it, and how our leaders can begin to correct these wrongs. Professor Archer's full article is available at this link. Have any comments or questions? Please email us at offthepage.vlr@vanderbilt.edu!