Diasporic Modernisms: Hebrew and Yiddish Literature in the Twentieth Century
Posted by fuchskm on Tuesday, November 8, 2011 in Research.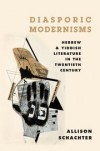 Diasporic Modernisms: Hebrew and Yiddish Literature in the Twentieth Century
by Allison Schachter
Oxford University Press, 2011
From the publisher's website: Pairing the two concepts of diaspora and modernism, Allison Schachter formulates a novel approach to modernist studies and diasporic cultural production. Diasporic Modernisms illuminates how the relationships between migrant writers and dispersed readers were registered in the innovative practices of modernist prose fiction. The Jewish writers discussed-including S. Y. Abramovitsh, Yosef Chaim Brenner, Dovid Bergelson, Leah Goldberg, Gabreil Preil, and Kadia Molodowsky–embraced diaspora as a formal literary strategy to reflect on the historical conditions of Jewish language culture. Spanning from 1894 to 1974, the book traces the development of this diasporic aesthetic in the shifting centers of Hebrew and Yiddish literature, including Odessa, Jerusalem, Berlin, Tel Aviv, and New York. Through an analysis of Jewish writing, Schachter theorizes how modernist literary networks operate outside national borders in minor and non-national languages.
Offering the first comparative literary history of Hebrew and Yiddish modernist prose, Diasporic Modernisms argues that these two literary histories can no longer be separated by nationalist and monolingual histories. Instead, the book illuminates how these literary languages continue to animate each other, even after the creation of a Jewish state, with Hebrew as its national language.