Lecture: Jean Silk presents "Community Resettlement of Refugees"
Posted by fliere on Wednesday, September 26, 2018 in Past Events.
Jewish Studies is proud to co-sponsor this lecture from Jean Silk on "Community Resettlement of Refugees."
The lecture will take place on Friday, October 5 at 12pm in Buttrick Hall 102.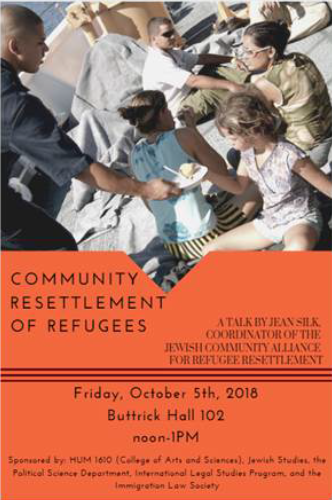 Bio: Jean Silk is Coordinator of JCARR, the Jewish Community Alliance for Refugee
Resettlement, a partnership of five synagogues that serves as a sponsor for refugee
families in New Haven, Connecticut. She oversees task forces carrying out all aspects of
refugee resettlement: welcoming, housing, employment, health care, education, cultural
orientation, transportation, and legal services. JCARR's volunteers are called upon to
respond to a wide variety of problems and challenges refugee families encounter.