Jewish Studies Lecture Series: Miriam Frenkel presents "India in Medieval Jewish History and Imagination"
Posted by fliere on Thursday, January 24, 2019 in Past Events.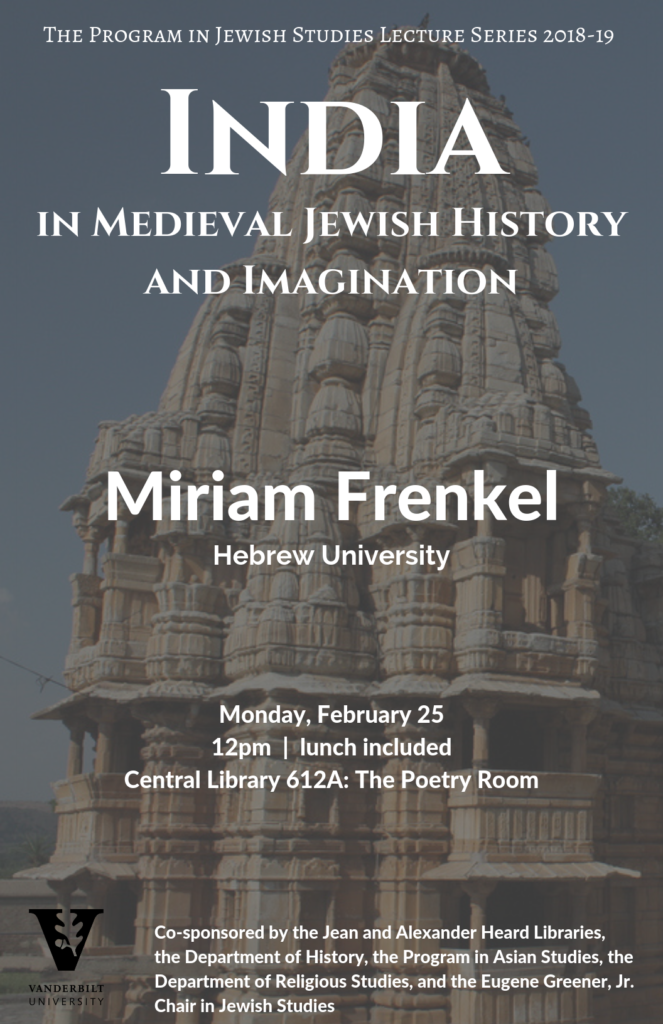 The Program in Jewish Studies is pleased to welcome Miriam Frenkel from Hebrew University to speak on "India in Medieval Jewish History and Imagination."
The lecture will take place at noon on Monday, February 25 at the Central Library Poetry Room (612A). A kosher lunch will be served.
Co-sponsored by the Jean and Alexander Heard Libraries, the Department of History, the Program in Asian Studies, the Department of Religious Studies, and the Eugene Greener, Jr. Chair in Jewish Studies.
Talk description:
The medieval trade between the Mediterranean lands and India was a driving force behind the Islamic civilization, which enabled its flourishing. From the 11th century onward, Jewish traders from Muslim lands frequented the Indian subcontinent and were familiar with its inhabitants, as is attested by hundreds of Geniza documents.  Nevertheless, contemporary Jewish writings of various genres display total ignorance or disregard towards any geographical and ethnographic empirical knowledge about India, its location and its features. They construct India as the ultimate Other, be it a lost paradise or a place of savage infidels. The lecture endeavors to dwell on this seeming gap between the mythical, stereotyped image of India in medieval Jewish lore and the growing contacts with the actual place and its inhabitants.
Bio:
Prof. Miriam Frenkel, teaches at the Department of Jewish History and the School of History at the Hebrew University of Jerusalem, where she is the head of the program for interdisciplinary studies. She has also taught at the universities of St. Petersburg, Stockholm, Pennu, and Heidelberg. Her main fields of research include Geniza studies, cultural and social history of Medieval Judaism in the lands of Islam, and medieval cultural encounters between Judaism and Islam. Her book "The Compassionate and Benevolent: The Leading Elite in the Jewish Community of Alexandria in the Middle Ages," won the Shazzar prize. Currently, she is a visiting professor at the University of Chicago.