"Jewish Veganism at a Turning Point: Internal Conversations and Broader Contributions" a talk by Dr. Jacob A. Labendz
Posted by malonj9 on Friday, December 9, 2022 in Past Events.
Join us for a talk on Jewish Veganism and Vegetarianism with Dr. Labendz, February 6th at Noon—in Buttrick123
For millen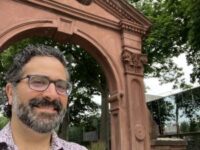 nia, Judaism's dietary laws have insisted that human beings should make intentional, ethical choices every time they lift food to their mouths.
What is Jewish about veganism? What is vegan about Jewishness? How might Jewish approaches to ethical eating enrich and be enriched by contemporary discussions about food politics, animal rights and welfare, social justice, and the environment?
Cosponsored by Department of Jewish Studies, Department of Religious Studies, Vanderbilt Community Garden, and SPEAR (Students Promoting Environmental Awareness and Responsibility)