Holocaust Lecture Series Sponsors Screening of Ida
Posted by fuchskm on Tuesday, October 6, 2015 in Past Events.
Now in its 38th year, Vanderbilt's annual Holocaust lecture series is the longest-running program of its kind at any university in the U.S.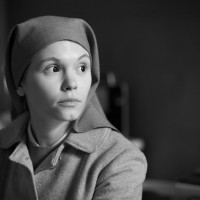 This year's theme is gender and genocide which will explore how the multifaceted entanglements of gender and genocide, as they manifested themselves during the Holocaust, provide insight into some of the most salient and challenging issues in contemporary society.
As a part of the series, there will be a film screening of Ida, 10/21/15, 7:00 pm at Sarratt Cinema.
Winner of the 2015 Academy Award for Best Foreign Language Film, Ida is a Polish feature film directed by Paweł Pawlikowski and written by Pawlikowski and Rebecca Lenkiewicz. Set in Poland in 1962, it is about a young woman on the verge of taking vows as a Catholic nun. Orphaned as an infant during the German occupation of World War II, she must now meet her aunt, a former Communist state prosecutor and only surviving relative, who reveals to her that her parents were Jewish. The two women return to Ida's rural birthplace to learn the wartime fate of her family.
"One of the finest European films in recent memory. It haunted me. I can't wait to see it again. […] "Ida" is as compact and precise as a novella, a sequence of short, emphatic scenes that reveal the essence of the characters without simplifying them."
– A. O. Scott, The New York Times
(From http://www.vanderbilt.edu/holocaust/ by Tyler Coles)
For driving directions to Vanderbilt University and locations of public parking, please refer to the vicinity map and Vanderbilt Traffic and Parking's website. For directions once you're on campus, please refer to the campus map.
For more information: http://www.vanderbilt.edu/holocaust/