Dr. Adam Gregerman to Speak
Posted by fuchskm on Saturday, February 6, 2016 in Past Events.
To mark the fiftieth anniversary of Nostra Aetate, the groundbreaking 1965 Roman Catholic declaration on the relation between the Church and Judaism, both Jews and Catholics have released major theological statements on Jewish-Christian relations. Dr. Gregerman will critically analyze these important new documents. He will situate them in the context of the dramatic changes that have taken place since Vatican II and consider what they indicate about contemporary theological trends and challenges in Jewish-Christian relations.
Dr. Adam Gregerman will present Rethinking the Covenant with God, Rethinking Relations with Each Other: Recent Statements on Jewish-Christian Relations
March 14, 2016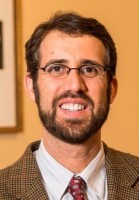 4:00 pm
Buttrick 123
Dr. Adam Gregerman is Assistant Professor of Theology and Religious Studies and Assistant Director of the Institute for Jewish-Catholic Relations at Saint Joseph's University in Philadelphia, PA. He received his Ph.D. from Columbia University. In addition to numerous articles on Jewish-Christian relations, rabbinic thought, and theologies of the land of Israel, Dr. Gregerman is the author of the forthcoming book, Building on the Ruins of the Temple: Apologetics and Polemics in Early Christianity and Rabbinic Judaism. He serves on the Council of Centers on Jewish-Christian Relations Board of Directors and on the Committee on Ethics, Religion, and the Holocaust at the U.S. Holocaust Memorial Museum as well as an academic consultant to national and regional Jewish groups on interreligious affairs.
This event is free and open to the public.
For driving directions to Vanderbilt University and locations of public parking, please refer to the vicinity map and Vanderbilt Traffic and Parking's website. For directions once you're on campus, please refer to the campus map.
Presented by Jewish Encounters: Enmity, Amity, and Engagement  – The VU Program in Jewish Studies Speakers Series 2015-16