Maimonides and His Heritage
Posted by fuchskm on Sunday, August 10, 2008 in Ongoing Research.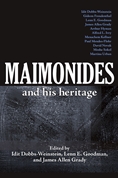 Maimonides and His Heritage
Edited by Idit Dobbs-Weinstein, Lenn E. Goodman, and James Allen Grady
SUNY Press, 2008
From the publisher's website: This volume celebrates the depth and breadth of Jewish philosopher Moses Maimonides' (1138–1204) achievements. The essays gathered here explore the rich diversity of a heritage that extends over eight hundred years, beginning with Maimonides' historical context; ranging through his distinct contributions to philosophy, theology, medicine, and Jewish law; to the impact his ideas have had on later generations. His humane perspective and commitment to intellectual rigor are reflected in the wide range of his works and his active role as a spiritual guide and intellectual leader. Maimonides' intellectual openness makes his work an enduring model of creative synthesis and critical appropriation, as well as a continuing source of intellectual stimulation not only for the many specialist scholars who scrutinize his texts but also for a wide and lively audience of nonspecialists.