Tamber-Rosenau's "Lethal Women" Takes Silver in 3MT Competition
Posted by fuchskm on Thursday, April 10, 2014 in News.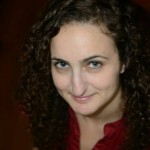 Ph.D. student in Hebrew Bible, Caryn Tamber-Rosenau, placed second in the Vanderbilt Graduate Student Councils' 3MT (3-Mintue-Thesis) competition.
3MT is a campus-wide competition in which students from across departments vie to see who can best present their dissertation research to a general audience.
Tamber-Rosenau earned her second place finish and $500 prize by presenting her work on gender in the narratives of Jael in the Book of Judges, Judith, and the retelling of Jael in Pseudo-Philo's Biblical Antiquities in the first century C.E. Her dissertation analyzes the role of performed gender and sexuality in these stories of lethal women.
More information about the competition can be found here.
Image on homepage: Jacopo Amigoni,
Jael and Sisera
[Public domain], via Wikimedia Commons