Joskowicz Wins German Studies Association Prize for Heine Article
Posted by fuchskm on Wednesday, October 9, 2013 in News.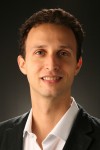 The North American office of the German Academic Exchange Service (DAAD) awarded Ari Joskowicz, Assistant Professor of Jewish Studies and European Studies, the Article Prize of the German Studies Association for his piece "Heinrich Heine's Transparent Masks: Denominational Politics and the Poetics of Emancipation in Nineteenth-Century Germany and France." The article appeared in German Studies Review, volume 33, no. 1 (February 2011).
Joskowicz was awarded the prize at the most recent German Studies Association conference that took place on October 3-6, 2013 in Denver, Colorado.
The DAAD article prize of the GSA is awarded to the best article in Germanistik or culture studies that appeared in the German Studies Review during the preceding two years.