Graduate Student Anne Grant Presents "T-Shirt Talk" at Slifka Center at Yale
Posted by fuchskm on Wednesday, March 12, 2014 in News.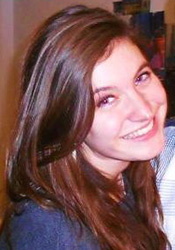 Anne Grant, a Vanderbilt graduate student studying the Sociology of American Jews, presented "T-Shirt Talk: The Art of Reimagining Cultural Jewish Identity" art exhibit at the Yale University Slifka Center which opened on Tuesday, March 4. Grant and Slifka Arts Curator, Lucy Partman, discussed the way the exhibit addresses the meaning of cultural Judaism.
"T-Shirt Talk" will remain on display until the end of March.
A full write-up on the exhibit is available from the Yale Daily News.