Blanchard wins Jewish Studies Essay Contest
Posted by fuchskm on Tuesday, May 17, 2016 in News.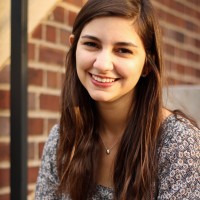 Alyssa Blanchard's essay "'Let's End this Charade':  Performance and Jewish Identity" has been named the winner of the 2016 Jewish Studies Essay Contest.  Focusing on Dara Horn's 2009 novel All Other Nights, set during the Civil War era, Blanchard discusses the ways in which Jews of the period used various forms of performativity in attempting to gain acceptance as Americans but found themselves outsiders nonetheless, failing to achieve lasting fulfillment in the process.  "The novel's hopeful ending," Blanchard concludes, "suggests that Jews must repudiate American society's pressures to conform in order to find contentment in their own identities."  Her essay provides not only a clear reading of Horn's novel but an interesting analysis of a central trope in the history of Jews in America, especially in the American South.
Blanchard, a rising senior majoring in Public Policy Studies, hails from the greater New Orleans area.  Her essay was originally written for Prof. Adam Meyer's "American Southern Jews in Life and Literature" class.  This year's contest judges were Prof. Allison Schachter and Prof. Philip Ackerman-Lieberman.