Persistence in a pandemic: College of Arts and Science students work for social change through nonprofit organizations
Though the COVID-19 pandemic scuttled many students' original summer 2020 plans, College of Arts and Science students adapted quickly. Through technology, creativity, and determination, they found ways to expand their horizons and continue preparing for life after Vanderbilt.
Students Rashmi Bharadwaj and Joe Miller both want to make an impact on society. This summer, they worked in the nonprofit world, where they got the opportunity for a closer look at the issues they study in the classroom.
Rashmi Bharadwaj '21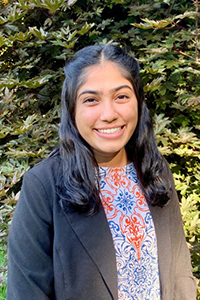 Public Policy Studies major, Neuroscience minor
Hometown: Louisville, KY
Rashmi worked at Bullseye Admissions, a college admissions consulting company, while studying for the MCAT and compiling her medical school application. As co-leader of the Bullseye Scholars Program, she helped provide free college advising and essay review to high school seniors from historically marginalized backgrounds.
Q: What did you enjoy most about your summer experience?
A: One of my passions is to mitigate education inequity, so I truly enjoyed being a part of planning and organizing the Bullseye Scholars Program. From reading applications to meeting our cohort of students, I treasured the opportunity to make this initiative as intentional and useful as possible. I hadn't realized that I could make such a meaningful impact while sitting on my couch.
Q: What advice would you give students who are thinking about their plans for next summer?
A: I got my job [at Bullseye] through LinkedIn, so I recommend keeping your profile up-to-date. Beyond that, don't be afraid to email professors or to apply to "random" things. Those tactics have opened the door to some of my most enriching experiences. Initiative and interest will speak volumes about your character and motivate people to give you a chance.
Q: How have your studies in A&S prepared you for post-college success?
A: They've helped me develop a more comprehensive worldview. I'm more cognizant now of the complexities and intricacies of the policy environment and determinants of health. After taking classes in multiple disciplines, I feel more prepared to recognize and navigate the needs of a diverse patient population. My coursework and extracurricular experiences have also inspired me to pursue a career in which I can provide both clinical and policy-based interventions.
Joe Miller '21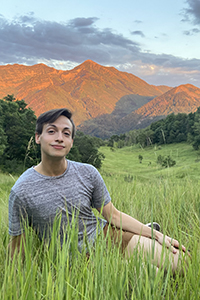 American Studies and Public Policy Studies double major, Sociology minor
Hometown: Provo, UT
Joe worked this summer as a research intern for the political action committee EMILY's List. Describing himself as "a highly political person," Joe says he enjoyed the opportunity to learn from political leaders and gain valuable campaign skills.
Q: Why did you decide to come to Vanderbilt?
A: I transferred to Vanderbilt my sophomore year from Brigham Young University. I was really attracted by the financial aid and the diversity. I feel like I'm exposed daily to people from different states, different countries, different viewpoints. I also love that the American Studies major is super interdisciplinary: it gives me the opportunity to study things from a variety of perspectives that I wouldn't have had otherwise.
Q: What did you enjoy most about your summer experience?
A: At our weekly staff meeting, they always featured someone EMILY's List supports, and one week they surprised us with Hillary Clinton. She had a really interesting message about what she learned from her 2016 campaign and her vision of what America is. She didn't talk very long, but it was really powerful.
Q: What was the biggest challenge you faced this summer, and how did you overcome it?
A: My internship was not very high-paying, so I took a part-time job as a cashier and ended up getting COVID-19 at work. I was lucky enough to have an employer who gave me paid sick leave, and thankfully, I didn't have to be hospitalized. However, my mom is immunocompromised, so I had to keep a strict quarantine in my parents' basement. I didn't see my mom in-person for about a month. What got me through it was that I posted on my private Instagram that I was sick, and a bunch of my friends from Vandy messaged me and commented and checked in on me. It was really nice to have that sense of community from Vanderbilt, even though my friends and I hadn't seen each other in person for 2 or 3 months.