Meet alumnus Skyler Gordon
Today, we're talking with alumnus Skyler Gordon who graduated in 2016 with a double major in history and classical and Mediterranean studies. He's currently a fifth-year Ph.D. candidate in the Department of History at Princeton University, studying race and racism in the U.S. armed forces.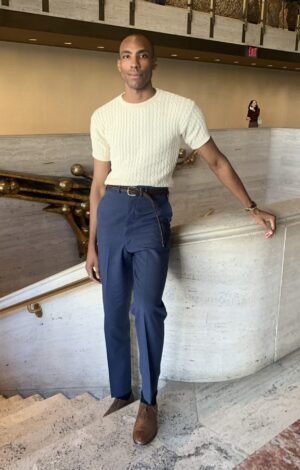 Q.  Can you tell us about your work at Vanderbilt, including your involvement as a researcher on the "Lost in the Ivy" archival project?
A.  During the final semester of my senior year, I wrote a term paper on the founding of the Afro-American Association, Vanderbilt's first Black undergraduate organization that eventually became the Black Student Union. I was inspired by the Black-led student protests on campus that year and, given my historical proclivities, thought a study of their origins was a worthy undertaking. So, I read the sparse accounts of Black students at Vandy and visited the university archives, which house documents written by the association's founders and back issues of the Hustler.
I submitted my paper at the end of the course and graduated shortly after, not before giving my research to Rosevelt Noble, director of the Bishop Joseph Johnson Black Cultural Center, who interviewed me for "Lost in the Ivy" and whose mission I felt could benefit from all that I amassed. The following fall, after a brief summer internship and with no job prospects on my return, I received an email from Dr. Noble offering me a job to continue my archive research. For the next several months, I scanned through every issue of the Hustler on microfilm, screen-grabbed any article concerning Black students, and organized them for Dr. Noble's viewing. My time with "Lost in the Ivy" ended with the last issue I scanned; however, I was already in the process of securing a position with the Tennessee Historical Society and applying to graduate schools. Dr. Noble later informed me that he had used the articles to wallpaper the Black Cultural Center's Study Lounge.
Q.  Why were you drawn to be involved in "Lost in the Ivy" project?
A.  For much of undergrad, I felt uneventful. However, my interview with Noble for "Lost in the Ivy," though a brief bookend to my four years, made my time at Vanderbilt feel worth recording. The final message to my interview, "You deserve to be here," was as much for me as for the viewer. So, by the time I finished my paper, I felt indebted to Dr. Noble and "Lost In the Ivy." My research was an appropriate repayment.
Q.  What are you currently researching?
A.  My current research focuses on race and racism in the U.S. armed forces from the mid-1960s to the early 1980s, specifically the tensions between racial equality and national security.
Q.  What are your future plans?
About my future I am sure of one thing: I don't know. I love to research and write and edit, so, hopefully, I find a career that pleases all three loves. If not, I will research and write and edit in my own time.