Erin B. Logan BA'17: From Vanderbilt Scholar to White House Reporter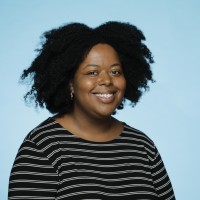 Google CEO Sundar Pichai once stated, "A diverse mix of voices leads to better discussions, decisions, and outcomes for everyone."
Erin B. Logan, BA'17, is a shining example of this as she gives voice to often unheard perspectives as a White House reporter covering The Biden-Harris administration for The Los Angeles Times. As she covers some of our country's most critical issues for one of the largest newspapers in the country, Logan credits her Vanderbilt experience with shaping her into the journalist she is today.
While at Vanderbilt, Logan double-majored in History and African American & Diaspora Studies, with an Italian Studies minor. As a student she wrote several op-eds for Vanderbilt's student newspaper, The Hustler. This experience fueled her passion for digging deeply into people's stories, and ultimately pushed her to pursue a career in journalism. 
After graduating from Vanderbilt in 2017, she moved to Washington, D.C. to attend journalism school at American University. She completed internships with The Washington Post and NPR before landing her first job with a community newspaper affiliated with The Baltimore Sun. This job led to her position with The L.A. Times, where Logan has worked for the last three years. She recently joined The L.A. Times' Washington bureau as a general assignment reporter, contributing to stories for the daily news cycle and covering President Biden and Vice President Harris.
During her time in the College of Arts and Science, Logan developed a mentoring relationship with Alice Randall, writer in residence of African American and Diaspora Studies. 
"It is vitally important that our journalists be informed, critical, and independent thinkers," said Randall. "Erin B. Logan is all of that, and she is this: a person of courage, motivated by a desire to inform readers, motivated by a desire to create increasingly transparent connections between the governed and the governing."
Through Randall's classes, Logan says she discovered ideas that helped her become a better storyteller. "I learned the importance of a diversity of perspectives on anything and everything, how that informs the world, and how you can tell stories through that," said Logan.
Working as a White House reporter, Logan is often in spaces that have not always been welcoming to many people,  especially Black women, and she has experienced difficult moments during her career because of her race and gender. In her current role, Logan is the only woman and person of color on a team of all white men—something she says would normally make her apprehensive. However, she notes that the positive workplace environment fostered by her colleagues makes her feel welcomed, which she feels is a rare occurrence for many who would be in this situation.
"I am in a space right now where I can be authentically myself, and that is a very special thing," said Logan. "That's not the experience with most people where they feel like they have to act a certain way, do their hair a certain way, say things a certain way, or not say certain things to avoid being pigeonholed as the 'race reporter.'"
Although Logan doesn't want to be labeled as such, she is proud to be a Black woman from the South in journalism and feels her presence is important to provide a new perspective to the public, using a voice that they don't often get to hear.
"Reporters have a lot of power in the way that they frame stories – it can impact what a person takes away from it."
And Logan is using her power as a journalist to inform people from all backgrounds about the complicated and nuanced workings of their government.