BankInfoSecurity.com
Feb. 13: While many organizations rely on training their employees to mitigate the risks of 'spear phishing'—a type of email fraud—such efforts are generally ineffective. Dean Eric Johnson explains why a technical solution might be more effective.
The Conversation
Feb. 23: Tim Vogus, associate professor of management, penned an op-ed in response to author Steven Brill's new book about the history of the Affordable Care Act. Vogus argues that hospitals and other health care consolidations—championed by Brill—are not the solutions to America's health care questions. Brill posted comments in response to the op-ed and he and Vogus had a healthy dialogue about the topic.
Fast Company
Feb. 10: Reviewing politically correct ideas before brainstorming leads to more creative ideas, according to research co-authored by Jessica Kennedy, assistant professor of management. Phys.org also covered the story.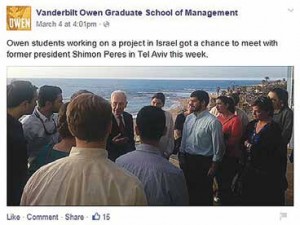 Fortune
March 9: Florida Gov. Rick Scott's administration has reportedly prohibited some state employees from using the terms global warming and climate change. Bruce Barry, Brownlee O. Currey Jr., Professor of Management, who studies free speech issues in the workplace, is quoted.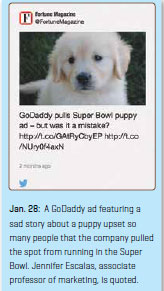 Jan. 28: A GoDaddy ad featuring a sad story about a puppy upset so many people that the company pulled the spot from running in the Super Bowl. Jennifer Escalas, associate professor of marketing, is quoted.
Futurity
Jan. 27: To cut turnover among lower-level workers, businesses should keep middle managers happy with their own bosses, finds new research by Ray Friedman, professor of management. Mean bosses at the top cause workers at the bottom to leave. The story also appears at Science Daily.
Main Street
Jan. 27: If you've been taking advantage of the popular trading strategy known as passive investing, research by Jesse Blocher, assistant professor of finance, suggests you might want to think about how much you're paying your fund manager first. The video interview also appears atTheStreet.com and MSN.com.
The MutualFundWire
Feb. 23: Expense ratios for index mutual funds (especially ETFs) may not come close to revealing the fund sponsor's real revenues from the fund. Jesse Blocher, assistant professor of finance, recommends more disclosure, more transparency.
NerdWallet
Jan. 12: Microfinance institutions increase low-income individuals' access to financial services, especially personal loans—at least that's the idea. Bart Victor, Cal Turner Professor of Moral Leadership, is quoted.
The New York Times
Feb. 3: Elite business schools have reputations as conservative, buttoned-up corners of college campuses and as bastions of male dominance. Many transgender individuals tend to avoid the business world, and up until a few years ago, there hadn't been openly trans students at many prestigious B-schools, if any. But a few transgender students have come out. Alumna Danielle Piergallini, MBA'12, found support from both her fellow students and the administration when she transitioned during her first year at Vanderbilt.
Poets and Quants
Jan. 23: An analysis of the educational backgrounds of the chief executives of The Financial Times' Top 500 global companies shows that nearly one in three (31 percent) now boast an MBA degree on their resumes. Vanderbilt's Owen Graduate School of Management has two Financial Times 500 CEOs on the list responsible for a total market capitalization of $75 billion.
Jan. 11: Vanderbilt's Owen Graduate School of Management is No. 20 in a ranking of the highest-paid MBAs of 2014.
Phys.org
Jan. 22: Marketing a new product? Getting consumers to visualize using it could backfire. According to a study co-authored by Steve Hoeffler, associate professor of marketing, it depends on whether consumers picture themselves using a new product in the past or in the future. The answer varies with the type of marketing appeal use.
U.S. News & World Report
Feb. 9: Employers are increasingly turning to master of finance graduates to fill their hiring needs, according to a new report from GMAC. MSF student Jamie Brown and Maura Clark, associate director of admissions for Vanderbilt's master of finance and MBA programs, are quoted.
Wall Street Journal
March 3: What makes a top hospital? Not only do four popular consumer hospital ratings not agree, but they occasionally contradict each other. The measures were so divergent that 27 hospitals were simultaneously rated among the nation's best by one rating service and among the worst by another. Tim Vogus, associate professor of management, collaborated on the study, which appeared in the journal Health Affairs. The research was also reported by The New York Times and Modern Healthcare.
Washington Examiner
Feb. 23: Visiting professor Ed DeMarco said that he's concerned
the U.S. government learned the wrong lessons from the housing crisis. He was featured in a Q&A talking about his work as acting director of the Federal Housing Finance Administration overseeing Fannie Mae and Freddie Mac.
Wired
Dec. 30: "Yes, entrepreneurship can be taught" was the headline on a recent article by Max Lytvyn, MBA'04. Lytvyn, co-founder and head of product strategy for Grammarly, outlined the benefits for entrepreneurs in earning an MBA.
WWL Sports Radio
Feb 2: Steve Posavac, E. Bronson Ingram Professor of Marketing, talked to New Orleans sports radio about the economics of Super Bowl ads.