Awards
The Stock-Trak Award
The Stock-Trak trophy is awarded to the student or student team (of 2) in each section of FNEC 261: Investment Analysis that receives the highest score in our Stock-Trak simulation.  Students receive $1 million to invest for 12 weeks.  The winner is determined based on a weighted average of total return, risk-adjusted return and minimal losses during the 12 weeks. The Stock-Trak trophy has been engraved since the Spring of 2005.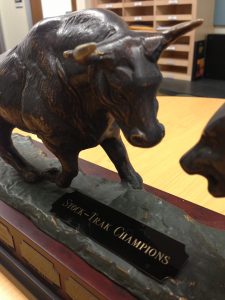 The David Steine Economics and Business Award
The David Steine Economics and Business Award in the Managerial Studies Program honors the memory and distinguished career of David Steine, a professor held in the highest esteem by Vanderbilt alumnus James B. Johnson. The award, which has a cash prize of $1,000, recognizes two seniors who show exceptional promise for a business career and benefits students from any of our four undergraduate schools who are working toward a minor in Managerial Studies.