Lieberman Publishes New Book on Jews and Dogs
Posted by fuchskm on Thursday, September 12, 2013 in Research.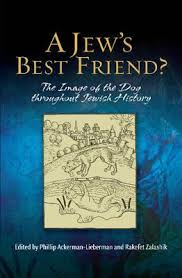 A Jew's Best Friend? The Image of the Dog Throughout Jewish History
By Phillip Ackerman-Lieberman and Rakefet Zalashik
Sussex Academic Press, 2013
From the publisher's website: A Jew's Best Friend? The Image of the Dog throughout Jewish History discusses specific cultural manifestations of the relationship between dogs and Jews, from ancient times to the present. Covering a geographical range extending from the Middle East through Europe and to North America, the contributors – all of whom are senior university scholars specializing in various disciplines – provide a unique cross-cultural, trans-national, diachronic perspective. An important theme is the constant tension between domination/control and partnership which underpins the relationship of humans to animals, as well as the connection between Jewish societies and their broader host cultures.