Graduate School 2020 Founder's Medalist: Thea J. Autry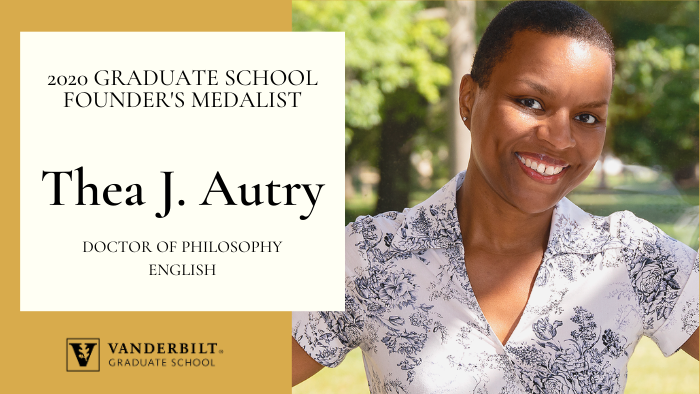 Thea Jean Autry, from Katy, Texas, is this year's Founder's Medalist for the Graduate School. She is graduating with a doctor of philosophy in English. Thea's research and teaching focus on U.S. literature and visual arts of the nineteenth, twentieth, and twenty-first centuries, with emphasis on theories of visuality, race, gender, sexuality, and cultural geography. She has earned numerous grants and scholarships, including a student-directed seminar grant from the Robert Penn Warren Center for the Humanities. She has been recruited as a reviewer by the European Journal of American Culture, and her paper proposals have been accepted at several national and international conferences.  Admired by her students, Thea designed and taught four well-received undergraduate courses. She is finishing a year in residence at Kenyon College after winning a prestigious Yarbrough Dissertation Fellowship and has multiple professional prospects lined up for the fall.
Thea generously shared a reflection on her Vanderbilt experience:
Several short weeks into my graduate studies career, I made the decision to abandon it — a decision that was, of course, forestalled by the sage encouragement of a relative who said simply, "You just got there. Give it a chance." I often shudder to think that I was a hair's breadth away from not realizing my potential. I not only faced a workload I wrongly regarded as insurmountably difficult for me, but I excelled — publishing my first academic article within two years and later winning a prestigious Yarbrough Dissertation Fellowship at Kenyon College.
One of the most meaningful experiences of my graduate studies career was my month-long stay in Copenhagen for Harvard's 2017 Institute for World Literature. My participation was made possible by generous Vanderbilt funding, and the opportunities to both engage with scholars from around the globe and immerse myself in the incredible local community were life-changing. In my capacity as a long-time officer in the English Graduate Student Association, I was honored to participate in such programs as the Tennessee Prison Books Project and the college application workshops at Martin Luther King, Jr. Academic Magnet High School in Nashville.
Congratulations, Thea, on your incredible achievements and generous contributions to the community.  The Graduate School is honored to name you the 2020 Founder's Medalist.