FNDP and AAHGS, March 2019
This past week, we've had two collaborations with the Afro-American Historical and Genealogical Society (AAHGS), Nashville Chapter. Both were a blast!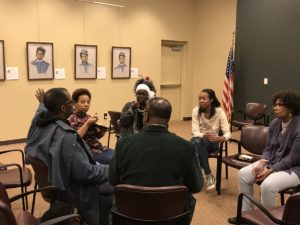 First, last Saturday we presented the FNDP at AAHGS monthly meeting which was held at Fort Negley Visitor's Center auditorium. It was in that very room last April when we first met Taneya Koonce and learned about AAHGS. A full circle moment. As always, it was great to introduce Gary Burke and Eleanor Fleming to a new audience, made even more meaningful because Mr. Burke and Dr. Fleming's aunt, Mrs. Carolyn Bright Worthy, were both in attendance. During the community discussion following our presentation, Mr. Bill Radcliffe, long-time advocate for Fort Negley and 13th USCT Living Historian, spoke about his work and his connection to the fort. It was a wonderful morning, made even richer by the fact that Shayne Davidson's portraits of the 17 Men was on display in the auditorium.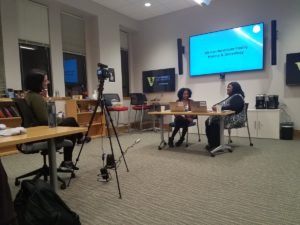 Tonight, we met up with Taneya Koonce at Vanderbilt's Center of Digital Humanities to film a tutorial on genealogical research with a focus on African American families. Taneya and FNDP team member Destiny Hanks talked about finding ancestors in the public records including census rolls, military draft forms, vital records, Freedmen's Bureau documents, obituaries, and Find-A-Grave. We can't wait to upload the final product as a how-to video on our website.
Up next, April event: A conversation with Shayne Davidson and USCT descendant Vanessa Tall (granddaughter of one of the men in Shayne's 17 Men exhibit) at TSU. Details forthcoming.