Walking Tour, February Updates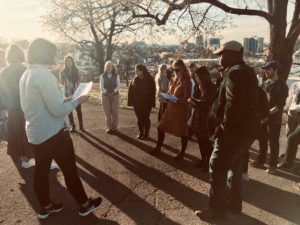 This semester, we've been working with wonderful new collaborators. Currently, we are testing a Fort Negley historic walking tour in partnership with Dr. Mary Ellen Pethel and Nashville Sites, a Metro Historical Commission Foundation (MHCF)-funded historic walking tour nonprofit. Our tour centers on the African American history of Fort Negley and features excerpts from our descendant interviews. We can't wait to share it with everyone. On February 26, Friends of Fort Negley Board members, including Mr. Gary Burke, Dr. Pethel's students from Belmont University, and Tracy Harris from Fort Negley joined Juliet on our first run-through of the tour script.
We have also been working with the Nashville chapter of the African American Historical and Genealogical Society to publicize the FNDP project and promote genealogical research.  We will be presenting and sharing at AAHGS-Nashville's next meeting on Saturday, March 2 at 9:30am at the Fort Negley Visitors Center. Please join us!
In April, we are co-hosting an event with Dr. Lea Williams at TSU featuring Shayne Davidson, artist and author of Civil War Soldiers: Discovering the Men of the 25th United States Colored Troops. Davidson researched the biographies of seventeen USCT soldiers and created portraits of them. The portraits are on display now at the Fort Negley Visitors Center. More details to follow!
See what else Fort Negley is up to here.