Fall 2018 Updates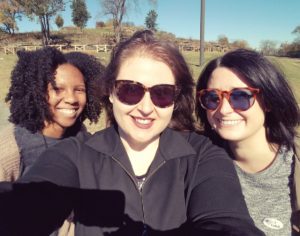 This semester, we said goodbye to Emma Furman, Kelsey Norris, and Kristina Lee who have left Vanderbilt for new adventures. In September, Oxford American published Kelsey's brilliant essay on the Fort Negley Descendants Project. Click Here to read it.
We have also been fortunate enough to receive a Catalyst Creativity Grant from the Curb Center at Vanderbilt, which supports artistic endeavors on campus as well as "scholarly and digital resources to examine the impact of gentrification on our community and creative economies."  These funds have enabled us to hire Vanderbilt undergraduate (and Nashville native) Destiny Hanks to help with this year's projects. We're grateful to the Curb Center and to Destiny for their support for FNDP.
What's in store:
We are working with nashvillesites.org (a Metro Historical Commission Foundation-supported historic walking tours program)  to create a walking tour of Fort Negley. We hope to integrate audio clips from the descendants' interviews into the tour to create a well-rounded experience.
We are working with the Nashville chapter of the African America Historical and Genealogical Society (AAHGS) to learn more about researching African American family histories and to hopefully connect local Nashvillians with their research expertise.
We have some new screenings in the works for early 2019. More information will be forthcoming.
Thanks for your continued support!
Juliet, Angela, and Destiny