Student Organizations
Vanderbilt has a range of student organizations that are involved in Latin American affairs. Many host trips to or conduct other forms of service for NGO's located in Central and South America. CLAS partners often with student organizations, supporting their events, providing informational orientations before trips to Latin America, and connecting student organization leaders. Details on past student organization events and travel can be found in CLAS Newsletters.
Engineers Without Borders
Engineers Without Borders-Vanderbilt pledges to build a better world through engineering projects that meet the basic needs of the communities who need them. We take engineering skills learned at the university and apply them to solve real-life problems in low resource communities.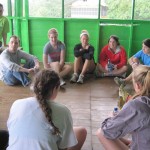 Manna International
Manna Project brings teams of 13-month volunteers and short-term volunteers to work in one of its sites in Ecuador, and Guatemala. Started by Vanderbilt alumnae when they were students, the organization seeks to establish a global network of Manna Project communities where young adults live and work alongside one another in under-served communities to initiate positive change. The Vanderbilt chapter takes various spring break, Thanksgiving, and other short-term trips to volunteer.
Association of Latin American Students (ALAS)
ALAS is committed to serving and representing students who identify as Hispanic. Through our mission, we also seek to be inclusive of students who might have ties to Latin America and its rich culture that might not be encompassed solely by the term "Hispanic", such as through ancestry (parentesco), family/personal history, or interest. ALAS is a space open to everyone to celebrate and share the rich diversity of Latin America through the formation of an inclusive and enriching community.
Latin American and Caribbean Student Association (LACS)
We are the first school-wide organization that aims to bring together people from the geographical and historical area of Mexico, Central America, the Caribbean Islands, and South America, as well as those who are interested or passionate about the region. We are a pluralistic and inclusive organization seeking to build community and cultural awareness among Vanderbilt students and Nashville at large. We want to serve as a gathering point for people of Latin America and the Caribbean, to be a support for international students from the region who are already in Nashville or are coming next year, and to make ourselves present on the Vanderbilt campus and in Nashville in diverse ways.
Timmy Global Health
Timmy sends medical service teams to support the work of international partner organizations, and channels financial, medical, and human resources to community based health and development projects. By serving, fundraising, and advocating on behalf of Timmy and our international partner organizations year-round, Timmy students at Vanderbilt are combating global health disparities from every angle.
La Alianza- Law School
LMSA- Latino Medical Student Association
CSA- Caribbean Student Association
AMIGOS
VEMS- Vanderbilt Emergency Medical Students
Latinx Seminarians
SHPE- Society of Hispanic Professional Engineers
SACNAS- Society for the Advancement of Chicanos/Hispanics and Native American in Science
Vanderbilt Global Brigades
ALPFA- Association of Latino Professionals for America
LBA- Latin Business Association