Meet Caroline Delafield '25
Meet Caroline Delafield, a junior majoring in political science and minoring in art history. Caroline spent her summer in the Criminal Law Internship Program through the Washington D.C. Public Defenders Service. The internship will serve as Caroline's Vanderbilt Immersion experience.
Q. Tell us about the internship and the kinds of things you were responsible for.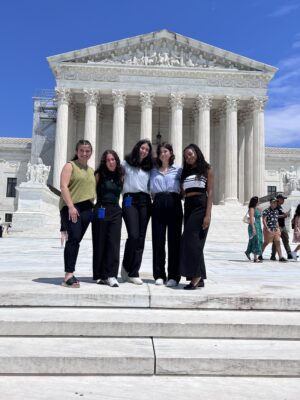 A. As an investigative intern I had a variety of tasks including visiting clients in jail, interviewing witnesses, canvassing neighborhoods, attending hearings, watching police body worn camera footage, watching surveillance footage, listening to our clients jail calls, combing through phone records and contents, and liaising with client's families.
Q. It sounds like you were able to get some great hands-on experience. Can you tell us about the opportunity when you worked on a sentencing hearing?
A. I worked on a sentencing hearing for a young client that had accepted a plea deal. It was a devastating case that was widely publicized in Washington D.C. My work for the hearing focused on creating a sentencing presentation and video for the lawyer to present to the judge.
The goal of these sentencing presentations and videos is to humanize the client and show the judge that they have a life and loved ones outside of prison. Ahead of the hearing my intern partner and I filmed interviews with our client's family and friends. The interviews consisted of our client's loved ones talking about their favorite memories of the client and how they would support them after their sentence. The presentation portion contained facts about the violence and trauma that our client has personally experienced. The goal of the presentation is not to excuse our client's actions but to provide background information that might help the judge understand why the client acted the way they did.
The hearing itself was very dramatic and stressful, but it concluded in my client's favor with the judge stating that it was the hardest decision they have made in their 12 years of judgeship.
Q. What was your biggest takeaway from this internship?
A. One of my biggest takeaways from this internship was that every case is individual and our criminal justice system is not set up in a way that allows the courts to understand the cases' uniqueness which is ultimately detrimental to Americans.
Q. Did any of the classes you've taken here at Vanderbilt help prepare you?
A. The class that I took at Vanderbilt that prepared me most for my internship was Racial Justice. I had readings and discussions in racial justice that focused on prison abolition and restorative justice methods. Both those ideas were strongly applicable to my internship.
Q. What do you plan to do in the future?
A. I have no concrete plans for the future but I would like to attend law school after I finish my undergraduate degree.