Meet Pedro Rosales-Diaz '25
Undergraduate students at Vanderbilt have unique opportunities to conduct a wide range of research, discovery, and scholarship during their time on campus. Whether the study is related to Immersion, through an internship, or in a research lab, students gain a range of exclusive experience before graduation.
Hear from Pedro Rosales-Diaz '25 who is working toward majors in medicine, health, and society and Latina and Latino studies and minors in biological sciences and French. Rosales-Diaz published a poetry collection and is currently working on a second collection.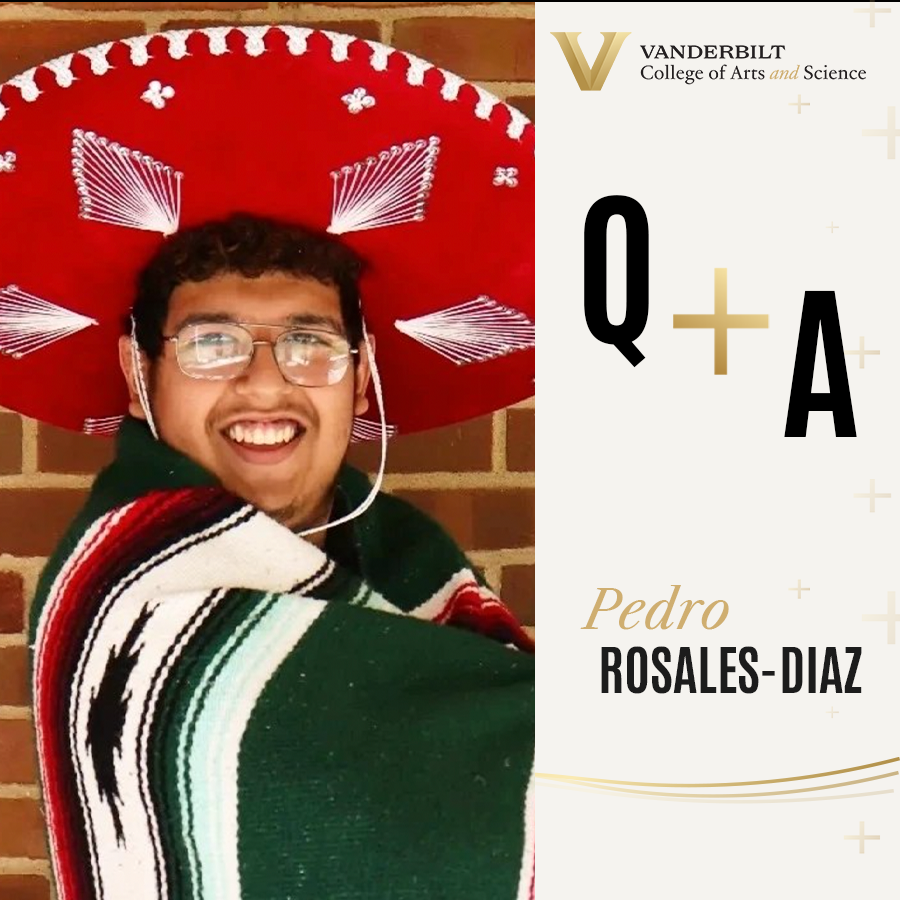 Q. Tell us about your book, Dreams Through Shadow and Light.
A. Dreams Through Shadow and Light is a poetry collection that resembles a journey through my life up until now. It is divided into three sections, Shadow, Glow, and Light. Shadow explores the more dark and somber aspects of my childhood and begins to question the ideas that I once believed through the factors of society. The collection continues with Glow, where I honor and give an ode to the people and places that helped me become the person I am today. Lastly, the collection ends with Light, where the collection slowly shifts away from me and focuses on love for the future. As this section is not about me, it shows not only that the journey of love is not over yet, but also the last poem, "Reflections" offers a conclusion of self-love and pride that I was able to gain through my childhood and adolescence.
Q. Why was it important for you to create this book?
A. It was important for me to write this book for two reasons. One was for increasing the Latinx representation within the literary world, especially through poetry. As I fell in love with poetry last year, finding poets that can relate to you is difficult, which can feel isolating. So writing this collection was a way to mention some of the trials and tribulations I have overcome, but also it can be a place for someone to read it and relate to it. It is important for everyone to feel included and seen. Another was for personal closure. Writing this collection was a sense of therapy, where I can put my anger into words and stanza, and by the end of it, I can feel calm and tranquility.
Q. Are you working on anything currently?
A. Yes I am! I am in the works on my second collection! It will be called Sanctuary of Love. I have ideas on what the major sections would be, but right now I am just writing away whenever I have a thought that comes to mind and going from there!
Q. What will be your independent project for Immersion?
A. My independent project for Immersion will be poetry! As Dreams Through Shadow and Light was my first collection that I self-published, the end project would be to have three collections that act as a trilogy of my life. By the end of this project, I hope I could have a box set to be published through the Vanderbilt Press so future students and faculty could have the chance to read them.
Q. What are you currently thinking for future plans?
A. I am currently thinking of applying for the MHS 4+1 MA Program and going on to nursing school to become a nurse practitioner.
Q. What advice would you give to students who want to become published?
A. I would say to just write and do it! I really never thought that I would publish a work of mine until I just kept writing poems. Poetry is a fluid art that one can create and redesign with one's experiences, passions, and upbringings and it is important to share them. You never know who you can relate to if you don't write how you feel or what has happened in your life!