Meet Maya Reddy '24
Undergraduate students at Vanderbilt have unique opportunities to conduct a wide range of research, discovery, and scholarship during their time on campus. Whether the study is related to Immersion, through an internship, or in a research lab, students gain a range of exclusive experience before graduation.
Hear from Maya Reddy '24 who is a triple major studying molecular and cellular biology, political science, and communication of science and technology. Reddy recently won the Department of Defense Science, Mathematics, and Research for Transformation (SMART) scholarship, which gives her full tuition, a stipend, and a position with the Department of Defense in Charlottesville, Virginia after graduation that includes working directly with an experienced mentor. Reddy found mentorship to be an especially important part of her path as she studies and researches biohazardous threats.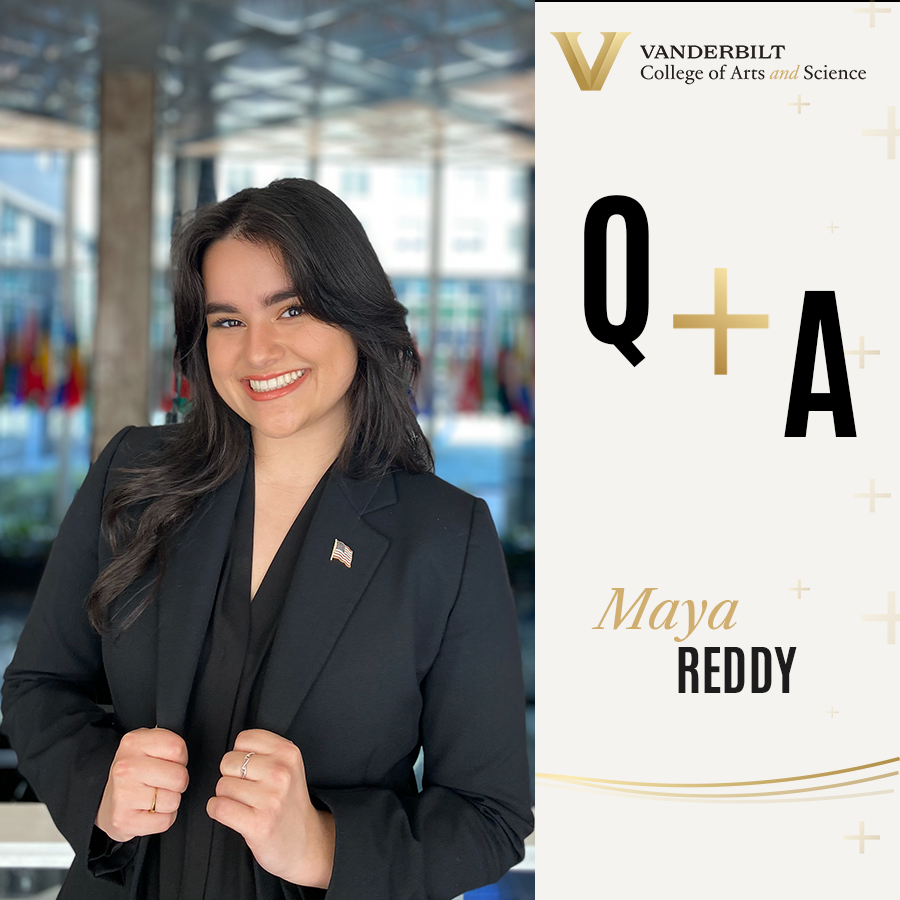 Q. Congrats on receiving the SMART scholarship from the Department of Defense! What will this scholarship provide you? Any idea how many students applied?
A. The SMART Scholarship is a scholarship-for-service specifically designed to incentivize STEM students to work for the federal government. This scholarship will provide me with full tuition and a stipend to help me focus fully on my studies during my remaining time at Vanderbilt. Then, I will go on to work for the Department of Defense for a year after graduation. I am not sure how many applied to this cohort, but there were about 2,500 applicants in 2022.
Q. What is your expected graduation date and what are your majors/minors?
A. I will graduate in May 2024, and I am currently a triple major studying molecular and cellular biology, political science, and communication of science and technology. I started at Vanderbilt as a pre-medical student, but through my time at Vanderbilt, and specifically as part of the Vanderbilt Debate Team, I was drawn to studying political science. It was from there that I realized my interest in the intersection of infectious disease, global health, and national security.
Q. Tell us about what you're currently studying and your research projects.
A. I am currently finishing up my majors, but I am MOST excited about the prospect of completing an honors thesis in political science focused on evaluating risk factors that may lead to the proliferation of certain biological threats, such as emerging infectious diseases.
Q. What will you be doing in your role at the Department of Defense in Charlottesville, Virginia?
A. Every office in the Department of Defense is different, but each is critical to the mission of providing our military forces the resources needed to deter war and ensure our nation's security. I was lucky enough to be placed in an office that will utilize my education so that I may also serve this mission, and there is no greater honor than to do so.
Q. What are you currently thinking for future plans?
A. Both of my parents are veterans, so I was raised in a home dedicated to service. I hope to pursue a job in national security so that I may continue to serve my country in every way that I can. This scholarship is more than a steppingstone, but rather a dream opportunity that will lead to my dream job.
Q. What types of support and mentorship have you received here at Vanderbilt?
A. I am so grateful to have received immense amounts of support and mentorship throughout my life from my family and friends, teachers, and my professors at Vanderbilt.
My freshman year Introduction to Biology professor, Dr. Thomas Clements, has been my cheerleader from day one. He not only supported me through COVID-style Intro to Bio, which is a difficult class all on its own, but he made sure to make me feel like I was welcome to ask him any question I had, basic or advanced. He encouraged me to apply to the Learning Assistant program, which has been one of the most positive experiences I have had as both a student and a mentor. Even today, when I am not in any of his classes or one of his Learning Assistants, he still makes sure to reach out and ask how I am doing or welcome me into his office just to chat. I was a Learning Assistant for him when I switched from pre-med to something more non-traditional for a STEM major. He sat in the room as I told my students about the switch, and why I did it. He was not only supportive of me materially by writing letters of recommendation and encouraging me to follow my dreams, but now he even asks me occasionally to talk to other students in the same position to help them follow their dreams, too. He was the beginning of an incredible support system here at Vanderbilt.
On a similar vein, I was so lucky to have an incredible professor in my first political science class whose class challenged me in ways like none other. Dr. Katherine Carroll taught me how to think and write like a political scientist, where to look for opportunities in a new field where I had no bearings or connections and supported me in the early stages of career development, like looking for that first internship opportunity.
Speaking of career development, don't forget about the career center. My adviser, Cathy Weisbrot, is so incredible and works so hard to help students succeed. I will never forget when she willingly called me at 8 a.m. one day to help me sort out what to do with a certain internship opportunity, when she let me cry in her office because I was so afraid of dropping pre-med because I thought I wouldn't be able to find a job, or when she ran multiple mock interviews with me over the summer.
I would be hard-pressed not to mention how impactful Vanderbilt Debate Team has been. From the very first day, our coach ML Sandoz ensured our team felt like a family. Not to mention the fact that without the debate team, I do not think I would have thought to pursue political science! The Vanderbilt Debate community has made the single greatest impact on me as a student, and as a person since coming to Vanderbilt. It has led me to new ideas and shaped my professional aspirations. It has brought me to people that I will continue to be friends with, support, and be supported by for years to come. I don't think that I would have known what my dreams were, and even less how to chase them, without people like Dr. Clements in the biology department and Dr. Carroll in the political science Department, and communities like the Vanderbilt Debate Team. Vanderbilt is a vat of support. If you seek it—so seek it!