Meet Ellie Allain '25
Undergraduate students at Vanderbilt have unique opportunities to conduct a wide range of research, discovery, and scholarship during their time on campus. Whether the study is related to Immersion, through an internship, or in a research lab, students gain a range of exclusive experience before graduation.
Hear from Ellie Allain '25, who is working toward a major in climate studies and minor in environmental and sustainability studies. Allain conducted whale shark research as her Immersion experience and plans to start a scuba diving club on campus. In the future, she plans to focus on policy as it relates to the coastal landscapes and vital marine resources, and how climate change impacts marine species.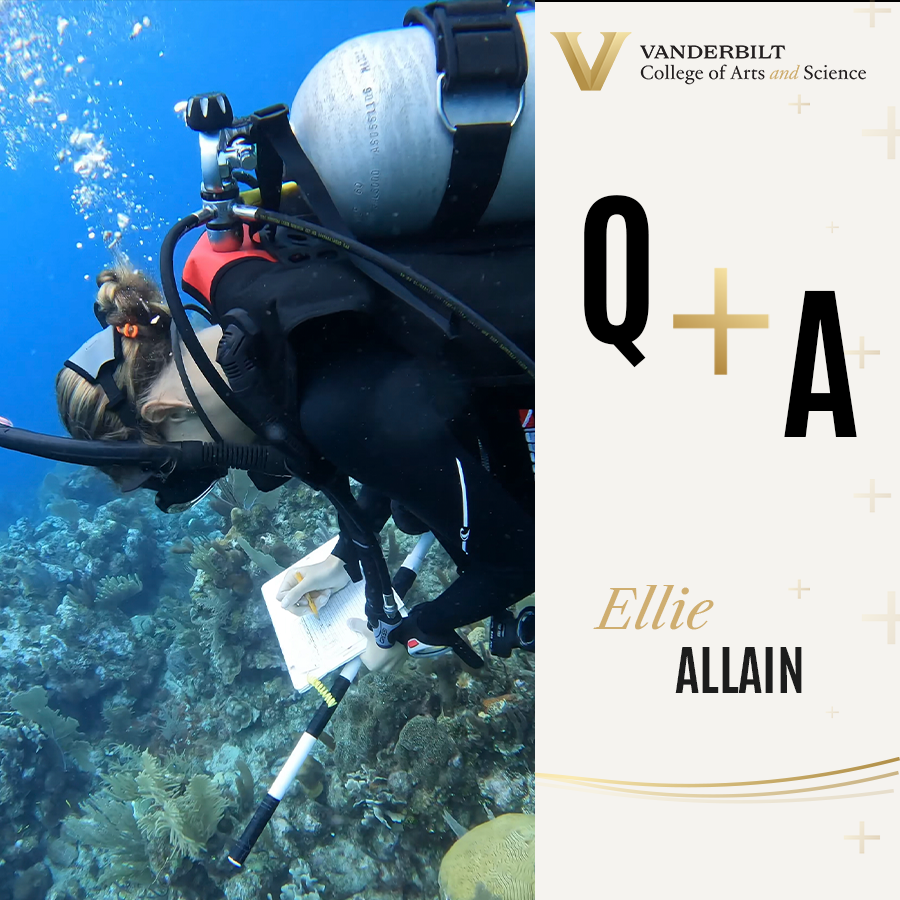 Q. Tell us about your internships. Where were they and what did you do?
A. Last May, I was awarded funding to complete my Immersion experience in the Maldives with the Maldives Whale Shark Research Program. While there, I lived aboard a Turkish gulet ship anchored in the South Ari Atoll. I worked with an international research team to collect baseline data on the aggregate of whale sharks local to that area. We would free dive to photo ID the sharks and then later run the images in an international database to either update the information or enter a new sighting. With every shark encounter, environmental data was also taken and analyzed including current levels, water visibility, and wind patterns. From day one, the research team fully submerged us in the research and life in the South Ari Atoll. We also worked closely with the people of the islands to determine the effects of tourism on the health of the marine life and how climate change has impacted the biodiversity of the reefs.
Last fall, I obtained a second research opportunity with the Whale Shark and Oceanic Research Center (WSORC) based in Utila, Honduras. Dean Dan Morgan granted me the opportunity for this departmental internship which also served as my culminating Immersion project. Partnered with the Bay Island College of Diving, I logged over fifty dives and earned my advanced PADI dive certification. Each week WSORC focused on a different aspect of education, assessment, and experiential research. Areas of concentration included Caribbean fish and other reef-associated organisms, lionfish containment, whale sharks, and corals. In addition, each intern organized and conducted a personal project focusing on an area of marine conservation. Through this experience, not only did I gain knowledge in marine biology, but also valuable insight into the struggles locals face in living in a third-world country that depends on tourism and fishing for survival. The WSORC team strives to increase the presence of researchers in Honduras while tackling some of the biggest issues facing the whale shark populations, the Mesoamerican reef, and the local economy. The main research questions addressed include:
What attracts whale sharks to Utila and when are they most abundant?
Is the number of whale sharks visiting Utila increasing or decreasing?
How can our community reduce its impacts on whale sharks while continuing to benefit from their presence?
Throughout my experience, the Caribbean served as my actual classroom. I learned invaluable research skills by working with an established global marine research institution. I obtained my REEF Level 2 Surveyor certification and Coral ID Monitoring ID training. In addition, I received specialized training in lionfish removal and learned how to safely utilize all parts of the fish. Logging six to eight research dives each week, I participated in coral reef surveying and assisted with the testing of treatments for Stony Coral Tissue Loss Disease.
When not in the classroom or diving, we visited various conservation centers, like Kanahau Wildlife Conservation Center. Collaboration and education serve as the greatest weapons against the growing threats facing the local economy and threatened ecosystems. All WSORC interns are encouraged to create their own personal projects. I serve as a brand ambassador for the international nonprofit, 4ocean, an ocean cleanup company dedicated to ending the plastic crisis plaguing our oceans. Their mission centers on recovering and recycling ocean plastic, advocating for sustainable innovation, and inspiring people around the world to reduce their consumption of single-use plastic. For my project, I coordinated a beach clean-up at Pumpkin Hill Beach in Utila, Honduras through a partnership with 4ocean. First and foremost, the most important thing about Pumpkin Hill Beach, and the reason I chose it, is because of its important role as a nesting ground for sea turtles. I decided to use social media and a brand collaboration with 4ocean to document and promote awareness of the impacts of plastic waste on our oceans and coasts. Social media has many benefits in conservation, but the three points I addressed are its ability to connect with your audience, simplify your message, and relate to the problem. Because of my partnership with 4ocean and WSORC, more people know about the importance of keeping beaches clean, especially in prominent sea turtle nesting grounds.
Q. Why is marine conservation important to you?
A. I have always held a fascination with the ocean and marine life. Living in Southeast Louisiana with easy access to the Gulf Coast has afforded me a variety of memorable and formative experiences. Early on I spent many days exploring the banks of Bon Secour Bay with my grandfather collecting driftwood and shells and countless hours boating and swimming in the waters off the northern Gulf Coast living out my greatest mermaid fantasies. Ferry trips across Mobile Bay to Fort Morgan and Fort Gaines opened my eyes to the rich history of the region, while the Sea Lab on Dauphin Island provided the first glimpses into the variety of marine species that inhabit the Mobile Bay estuary and surrounding coastal environments. I also have firsthand experience of the devastation hurricanes and natural disasters, like the BP oil spill, can have on coastal areas and the people and marine life that inhabit these regions. From Hurricane Katrina to Hurricane Ida, Southeast Louisiana and my beloved Gulf Coast have been battered and reshaped, yet still thrives. Again, through my internship in the South Ari Atoll, Maldives, to the most recent one in Utila, Honduras, I have gained a wealth of experience and developed a global perspective on life. At just 19 years old, I have found myself in the middle of the Indian Ocean, 20 feet under, and free diving with some of the largest creatures on the planet. I have spent hours upon hours diving and treating lesions on diseased corals along the Mesoamerican Reef. I have spoken to locals about their struggles, and the measures they have to take for survival due to the impacts of climate change. My personal experiences have fueled my desire to protect and bring awareness to the harsh impacts of climate change on vital marine ecosystems and coastal.
Q. Tell us about the scuba club you are starting on campus.
A. From the moment I chose Vanderbilt, I knew I wanted to find ways to bring the ocean to our landlocked university. Upon returning to campus this spring, I reached out to Dean Morgan about starting a scuba club on campus, and he showed great enthusiasm. He introduced me to Dr. Norbert Ross, who serves as our faculty adviser. Vandy Divers aims to promote the sport of scuba diving and provide an outlet for students with an interest in scuba diving, snorkeling, and marine conservation. Members will experience a variety of underwater environments and participate in clean-ups of wetlands, beaches, and underwater areas themselves. Meetings will include special presentations, discussion of upcoming dive trips, and social events with additional opportunities for certification and refresher courses made available. We plan to dive Florida, the Caribbean, and beyond. Membership will be open to all Vanderbilt University undergraduates, graduate students, faculty, and staff regardless of diving experience. I am waiting on final approval, and we hope to have this fun new club ready to go for the fall.
Q. Are you currently conducting any research?
A. Starting the Vandy Divers has been the main project this spring. I have applied for a research internship with Bimini Biological Field Station and hope to work with their shark lab over the summer.
Q. What are you thinking about for future plans?
A. Upon graduation, I plan to attend graduate school and pursue a master's degree in marine policy. The University of Miami offers a great program while providing easy access to the coast. I know my future plans center on protecting vital marine ecosystems and coastal areas. For fun, I also plan to become a PADI Dive Master and get certified in underwater photography and hope to make a documentary some day.