A&S Welcomes New Faculty
Vanderbilt College of Arts & Science is honored to welcome 52 new faculty members from both the 2020-2021 and 2021-2022 academic years to our growing community of distinguished scholars.   
"We are thrilled about what this diverse roster of world-class researchers and educators will bring to our academic landscape," said John Geer, Ginny and Conner Searcy Dean of the College of Arts and Science. "These proven innovators and creative collaborators will advance our understanding of the world around us in meaningful ways. We are honored they have joined our talented A&S faculty."  
Spanning 26 departments and programs, from Philosophy and Public Policy to Art and Chemistry, these scholars will further enrich Vanderbilt's trans-institutional approach to education and research. 
Please welcome the following faculty members who joined in 2020-2021 and 2021-2022:
2020-2021 New Faculty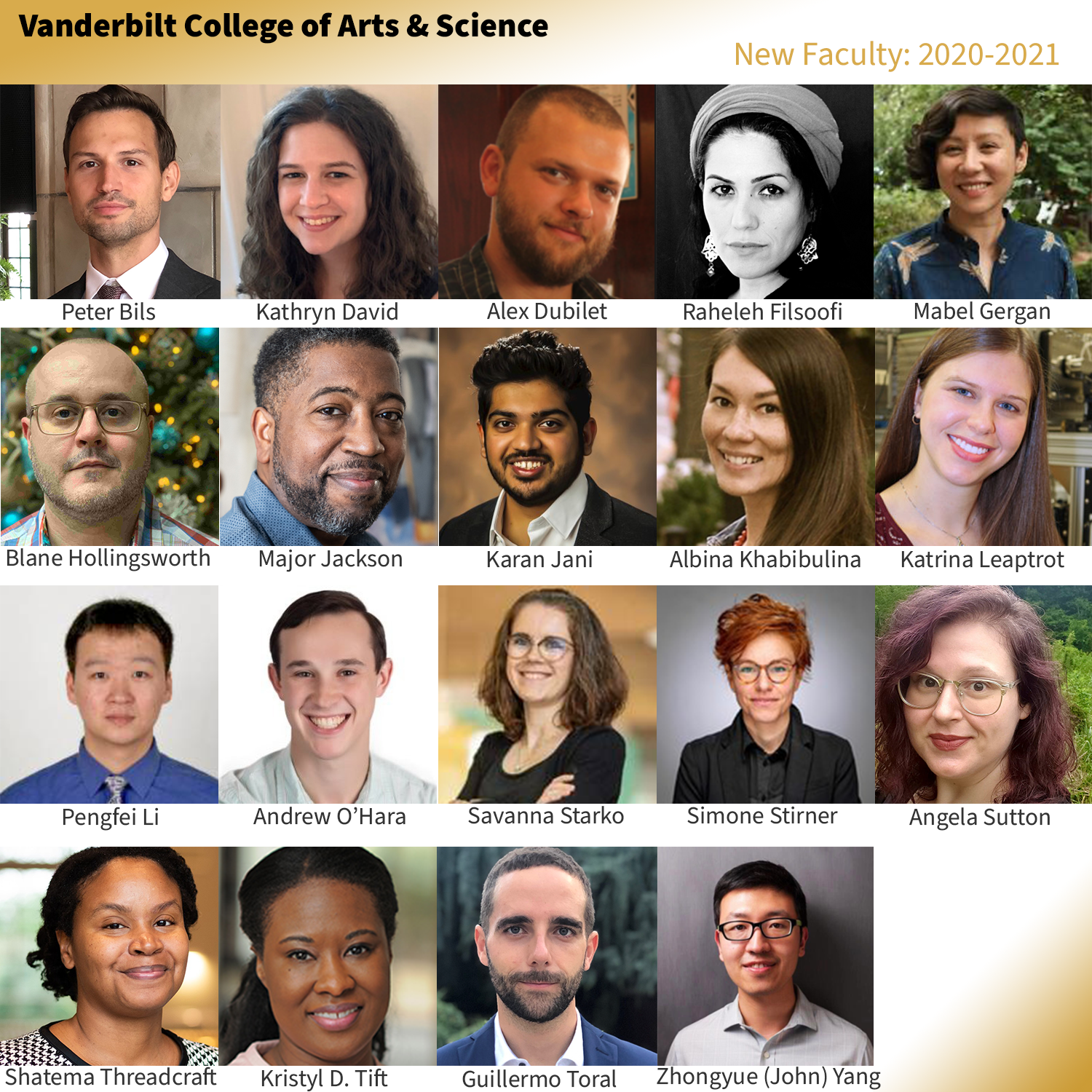 Peter  Bils, Assistant Professor of Political Science 
Peter Bils studies the political economy of institutions, with a focus on bureaucratic politics, lobbying, and elections in the United States. 
Kathryn David, Mellon Assistant Professor of German, Russian and East European Studies 
Kathryn David is a historian of Ukraine and Russia interested in issues of religion, nationalism, and empire in the Soviet Union and in post-socialist Europe.  
Alex  Dubilet, Assistant Professor of English 
Alex Dubilet is a scholar of critical theory, political theology, contemporary continental philosophy, critical study of secularism, and philosophy of religion.  
Raheleh  Filsoofi, Assistant Professor of Art 
Raheleh Filsoofi is a multi-disciplinary artist who utilizes ancient and contemporary art media in her work with a focus on the literal and figurative contexts of land, ownership, immigration, and border. 
Mabel  Gergan, Assistant Professor of Asian Studies 
Mabel Gergan is a geographer by training, and her research and teaching focus on postcolonial environmentalism, tribal/indigenous theorization, anti-colonial politics, and race and ethnicity in South Asia. 
Blane Hollingsworth, Senior Lecturer of Mathematics 
Blane Hollingsworth is interested in probability, stochastic differential equations, and board games. 
Major Jackson, Professor of English and Gertrude Conaway Vanderbilt Chair in the Humanities 
Major Jackson is a poet whose themes concern the redemptive power of art, language as a radical act of the imagination, and lyric expression as a site of individual freedom and selfhood. 
Karan Jani, Research Assistant Professor of Physics & Astronomy 
Karan Jani is an astrophysicist whose research is at the forefront of understanding black holes and testing Einstein's General Theory of Relativity with high-performance computing and gravitational-wave experiments on earth, moon, and space.  
Albina  Khabibulina, Assistant Professor of the Practice in Russian 
Albina Khabibulina is a specialist in second language acquisition and pedagogy, with research interests in sociocultural approaches to second language teaching and learning, dynamic assessment, and teacher training.    
Katrina Leaptrot, Research Assistant Professor of Chemistry 
Katrina Leaptrot is a bioanalytical chemist focused on utilizing separation techniques including ion mobility-mass spectrometry to characterize lipids and other biomolecules in complex samples. 
Pengfei  Li, Senior Lecturer of Asian Studies 
Pengfei Li is a scholar of linguistics and language acquisition and is experienced in technology-enhanced language teaching, course material development, curriculum design, and criterion-referenced assessment.  
Andrew O'Hara, Research Assistant Professor of Physics & Astronomy 
Andrew O'Hara is a scholar of physics with research interests in the application of density functional theory (DFT) and other computational methods in materials physics. 
Savanna  Starko, Senior Lecturer of Physics & Astronomy 
Savanna Rae Starko is a high energy physicist committed to ensuring all students are seen, heard, and valued in the Introductory Physics for the Life Sciences sequence. 
Simone  Stirner, Assistant Professor of German Studies 
Simone Stirner is a scholar of modern and contemporary German literature with a particular focus on poetry, memory studies, critical theory, and German-Hebrew literary encounters.   
Angela Sutton, Research Assistant Professor of Communication Studies 
Angela Sutton is a social and digital historian of the Atlantic World interested in the tools and methods that preserve and widen access to the sources that help refine and redefine popular understandings of American slavery and its modern consequences.  
Shatema  Threadcraft, Associate Professor of Gender and Sexuality Studies 
Shatema Threadcraft is a political theorist whose scholarship focuses on the intersectionality of gender and race, and the history and visibility of race-based violence in America.
Kristyl D.  Tift, Assistant Professor of Theatre 
Kristyl D. Tift is a performing artist and performance scholar whose research traverses the intersections of race, gender, class, sexuality, religion, and citizenship in theatre and performance contexts.  
Guillermo Toral, Assistant Professor of Political Science 
Guillermo Toral is a scholar of comparative politics and political economy, with a regional focus on Latin America and a substantive focus on issues of development, governance, and corruption. 
Zhongyue  (John)  Yang, Assistant Professor of Chemistry 
Zhongyue "John" Yang is a computational chemist enthusiastic about developing software to design "super" enzyme variants for efficient drug synthesis and pollutant degradation. 
2021-2022 New Faculty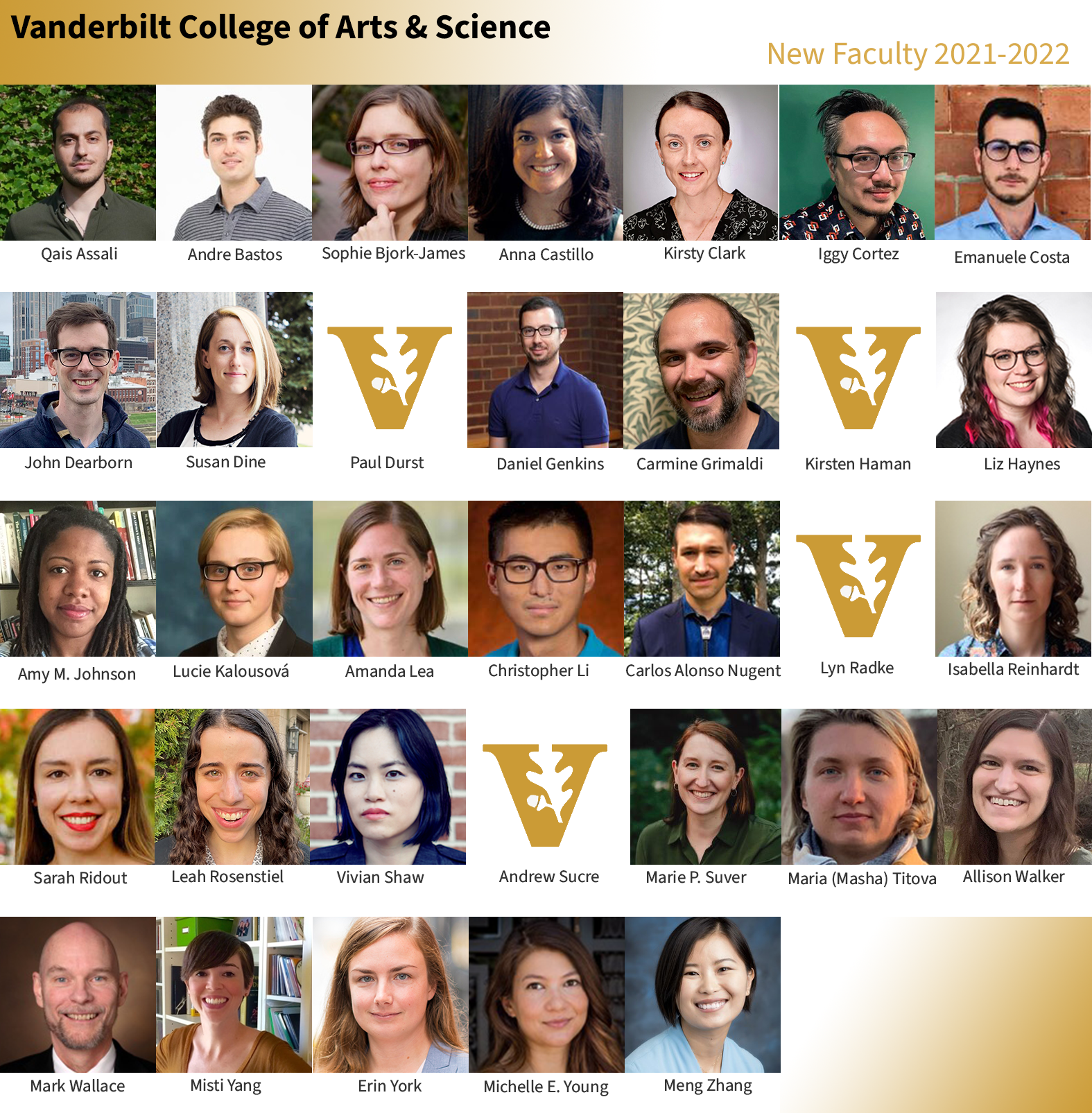 Qais Assali, Mellon Assistant Professor of Digital Design 
Qais Assali is a research-based artist/designer from Palestine who displaces causes, ideologies, sites, jokes, names, barriers, or subject positions based on unsmart practical geopolitical conceptualism and design. 
Andre Bastos, Assistant Professor of Psychology  
Andre Bastos is a cognitive and systems neuroscientist working to understand the neural basis of how the brain forms predictions, which allows us to more easily navigate a complex world. 
Sophie Bjork-James, Assistant Professor of Anthropology 
Sophie Bjork-James is a cultural anthropologist who studies the intersection of gender and religion in evangelical, white nationalist, and anti-racist movements in the United States.  
Anna Castillo, Assistant Professor of Spanish & Portuguese 
Anna Castillo is a literature and film scholar of the Southern Cone interested in contemporary works that delve into the relationship between intimacy and technology.   
Kirsty Clark, Assistant Professor of Medicine, Health, & Society and Public Policy
Kirsty A. Clark is a social and psychiatric epidemiologist whose research focuses on understanding mental health disparities, especially suicide, impacting LGBTQ+ populations and developing evidence-based interventions to disrupt the course of such disparities.  
Iggy Cortez, Assistant Professor of Cinema and Media Arts 
Iggy Cortez is a scholar of film and modern media researching the resonances between cinema, global diasporas, queer counterpublics, and the history of the senses in relation to the development of digital technology. 
Emanuele Costa, Assistant Professor of Philosophy  
Emanuele Costa is a historian of philosophy, focused on early modern philosophy and metaphysics, but he also takes a keen interest in showing how the concepts and ideas developed in a different era shape the ways we understand our current world.  
John A. Dearborn, Assistant Professor of Political Science 
John A. Dearborn is focused on the presidency, Congress, and American political development, with a particular interest in the role of ideas in changes to presidential power over time.
Susan Dine, Senior Lecturer in History of Art and Architecture 
Susan Dine is a scholar of Japanese art history, particularly pre-modern Buddhist imagery, and museum studies interested in the role of word and/as image within religious material cultures, narrative formation, and issues of access.  
Paul Durst, Assistant Professor of the Practice of Biological Sciences 
Paul Durst is a scholar of evolutionary biology and genetics and is Director of Initiatives in STEM Education for the College of Arts and Science. 
Daniel  Genkins, Mellon Assistant Professor of History 
Daniel Genkins is a scholar of the applications of data science and related methodologies including machine learning for research questions in the history of the early modern Atlantic world and the humanities more generally.  
Carmine Grimaldi, Assistant Professor of Cinema and Media Arts 
Carmine Grimaldi is a filmmaker and historian of media and science, with a particular interest in the ways that the moving image, aesthetic experience, and everyday life are entangled. 
Kirsten Haman, Assistant Professor of the Practice of Psychology 
Kirsten Haman is focused on training and supervising the next generation of clinical psychologists to implement effective interventions. 
Liz  Haynes, Assistant Professor of the Practice of Theatre 
Liz Haynes is a teacher of theatrical production and a researcher of sustainability in entertainment production studying how any size venue or company can make environmentally responsible decisions regardless of personnel or budget.   
Amy M. Johnson, Professor of the Practice of American Studies 
Amy M. Johnson is a scholar of pre-colonial West African history and the British Caribbean with a focus on comparative slavery and slave resistance.  
Lucie  Kalousová, Assistant Professor of Medicine, Health & Society and Sociology 
Lucie Kalousová is a sociologist studying social inequality and stratification of health through health and social policies in the United States and Europe.  
Amanda Lea, Assistant Professor of Biological Sciences  
Amanda Lea is an evolutionary biologist interested in how modern, urban environments impact health from genomic, developmental, and anthropological perspectives.  
Christopher Li, Assistant Professor of Economics 
Christopher Li is a scholar of governance and political polarization using formal models.  
Carlos Nugent, Assistant Professor of English  
Carlos Alonso Nugent is a literary, cultural, and environmental historian of the U.S.-Mexico borderlands (and, more broadly, the Americas), who is interested in the ways human communities have portrayed—and, in so doing, produced—more-than-human worlds.  
Lyn Radke, Lecturer of Philosophy 
Lyn Radke is a scholar of philosophy whose research interests lie at the intersection of ethics and the emotions.   
Isabella Reinhardt, Senior Lecturer of Classical and Mediterranean Studies 
Isabella Reinhardt is a classicist with a focus on the intellectual culture of Greece in the 5th century B.C., particularly in regard to Greek tragedy and presocratic philosophy.  
Sarah  Ridout, Assistant Professor of Economics 
Sarah Ridout is an economic theorist who works to develop rigorous, testable models of individual decision making.  
Leah Rosenstiel, Assistant Professor of Political Science 
Leah Rosenstiel is a political scientist interested in American politics, particularly American political institutions, Congress, and public policy.  
Vivian Shaw, Mellon Assistant Professor of Asian Studies 
Vivian Shaw is a sociologist and feminist ethnographer who specializes in global-comparative studies of race and gender in the context of social movements, culture, and the environment. 
Andrew Sucre, Lecturer of Philosophy 
Andrew Sucre is a scholar of ethics, philosophy of law, and the history of philosophy. 
Marie P. Suver, Research Professor of Biological Sciences  
Marie P. Suver is a scholar of sensation and the perception of movement, offering insight into general principles that nervous systems use to predict and learn about the world. 
Maria  (Masha)  Titova, Assistant Professor of Economics 
Maria "Masha" Titova is a microeconomic theorist who analyzes how informed agents influence uninformed decision-makers (e.g., how politicians persuade voters) and investigates how agents learn (how lawmakers identify the best available policies). 
Allison Walker, Assistant Professor of Chemistry  
Allison Walker is a chemical biologist studying how machine learning can be applied to predict the function and biological activities of molecules. 
Mark Wallace, Professor of Psychology  
Mark T. Wallace is a neuroscientist interested in how the brain combines information from the different senses in order to form a unified and coherent perceptual reality. 
Misti Yang, Mellon Assistant Professor of the Public Communication of Science 
Misti Yang is a scholar of the rhetoric of science, technology, and engineering focusing on computer engineers and the intersection between communication and ethics in engineering contexts, including the development of artificial intelligence. 
Erin York, Assistant Professor of Political Science 
Erin York is a scholar of the politics of autocracy with an emphasis on elected institutions, representation, and the politics of the Middle East and North Africa. 
Michelle E. Young, Research Assistant Professor of Anthropology 
Michelle E. Young is an anthropological archaeologist and material culture specialist who investigates interregional interaction, ritual practices, and the emergence of new social identities in the pre-Hispanic Andes.  
Meng Zhang, Assistant Professor of History 
Meng Zhang is a historian of late imperial and modern China interested in economic-environmental dynamics, political economy, and transnational connections in the rise of global capitalism. 
—