Former Tennessee governor Phil Bredesen talks problem-solving, cross-cultural respect at physics colloquium
The Department of Physics and Astronomy hosted former Tennessee governor Phil Bredesen at an April 8 colloquium attended by students, faculty, and other members of the Vanderbilt community. In a lecture followed by a question-and-answer session with attendees, Bredesen shared the value of scientific frameworks for problem-solving and emphasized the need for cross-cultural respect in scientific communication.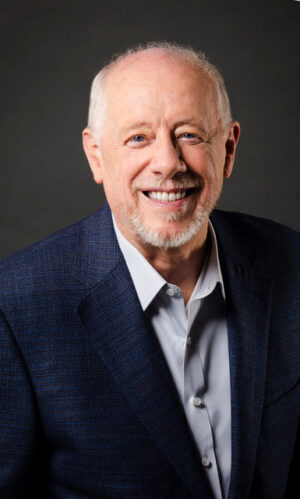 Bredesen followed an unlikely path to the Tennessee governor's mansion. Raised by a single mother in rural upstate New York, he was one of only 43 students in the graduating class at his public high school. The nation's post-World War II obsession with science amplified his natural interest in the field, and he entered Harvard University on scholarship with plans to become a physics professor. Though he said he found Harvard both academically and culturally challenging, he enjoyed his coursework and summer research experiences at Cornell University, where he worked in the physics department every summer. At the same time, he said, he began to realize that a career in the hard sciences might not be what he wanted. He took a few classes in government near the end of his undergraduate years, and the experience pointed him toward business and politics.
After about 20 years in health care technology and as an entrepreneur, Bredesen entered politics full-time. He served as the mayor of Nashville from 1991 to 1999 and the 48th governor of Tennessee from 2003 to 2011. Though there may not be an obvious connection between his physics degree and his political career, he said, "I firmly believe that a background in the hard sciences is great preparation for almost anything you might decide to do."
In particular, he said, he learned three essential skills that made him a smarter leader and equipped him to tackle thorny issues of policy and government. First, his scientific training taught him how to solve multi-step problems. In particular, he learned how to identify the steps to take, gather appropriate knowledge in phases, and build on that knowledge to move forward. Second, he said, physics trained him to ask, "Do I believe that?": to recognize that the first idea or solution he encounters may not be the most accurate or effective option. Third, the mathematical foundation of physics made him proficient in "back-of-the-envelope" calculations and numerical reasoning, so he can quickly check the validity of budget numbers and data-based claims.
"Physics gives you a powerful toolkit and a way of thinking about problems that [is] very different from what you might acquire in other disciplines," Bredesen said, citing G. Polya's How to Solve It mathematics textbook as an enduring influence on his career. "The goal is to get through the irrelevancies and then get to some kind of heuristic to think through everything in a very clean way."
As an example, he pointed to one of his major gubernatorial projects: the overhaul of TennCare, the state's public health plan for low-income and uninsurable residents. When Bredesen entered office, TennCare was less than 10 years old, but the plan was already in danger of failing due to massive cost overruns. For most states, such overruns are a result of long-term care for aging and severely disabled residents. Rather than assuming the same was true in Tennessee, Bredesen's administration applied his "Do I believe that?" test and mandated a deep-dive into the issue, discovering that prescription costs were the real culprit. Working with numerous stakeholders (including Vanderbilt), they developed a solution that cleared medical, legal, logistical, and political hurdles—a large but manageable challenge, said Bredesen, thanks to his scientific training in solving complex, multi-step problems. Though the solution was not without controversy, Bredesen's administration was not only able to save TennCare but also made the program a model for other states.
The TennCare project, Bredesen said, also points to another big lesson for scientists: learning to communicate with the general public with humility and respect. During his own childhood, Americans were largely united behind a belief in and support for the basic sciences. But he observed that today's citizens are sharply divided on questions of science. Conservative individuals, particularly in rural areas, often see scientists as out-of-touch elites and their findings—on issues ranging from climate change to COVID-19—as unreliable.
However, research universities and national labs, Bredesen pointed out, are highly dependent on public funding. "That means there's a bricklayer somewhere who's going to pay their taxes to support you," he said. "If someone's going to give you their resources, you owe them a clear explanation of what you're doing and why it's important to them and their country. It's not their job to understand so much as it's your responsibility to explain what you're doing."
He learned this principle, he said, from Don Edwards, the senior scientist who supervised his undergraduate summer research at Cornell. Edwards never allowed his students to avoid explaining their work to someone just because that person lacked advanced subject knowledge. Instead, Bredesen said, "He told us, 'If you really have command of the issue, you should be able to explain it to an interested listener at any level of sophistication'."
Bredesen calls this the "Wal-Mart test": when he was working on the TennCare overhaul, he challenged himself to be able to explain the issue at hand to any shopper in a rural Wal-Mart aisle. It's also important, he said, to remember that people who live in urban and rural areas often have different values or priorities. In fact, he said, rural Americans are in many senses a cultural group in their own right. As such, they should be approached with the same respect we advocate for any multicultural situation.
"As you get out into the world, I hope you'll take some time to explain to the broader public what you do and why you love it and why it's important," he said to students in closing. "What I'd really like is for my friends in the scientific community to become better acquainted with my friends in the aisle of Wal-Mart because it will be better for both of them. There's no one way to look at the world, and we need to remember to respect our fellow citizens who have views other than our own."