Tiffany Ruby Patterson: Raising the voices of the unheard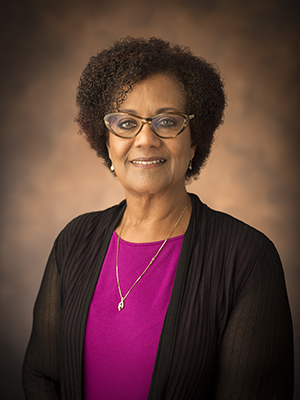 From a young age, Associate Professor of African American and Diaspora Studies Tiffany Ruby Patterson loved to learn. She read voraciously throughout her childhood: a set of World Book encyclopedias purchased by her uncle, an entire library left behind by the former owner of her family's apartment building. That early love of books continued into college, where Patterson majored in English literature. The subject ultimately pointed her toward her career as a historian focusing on the African diaspora, 19th– and early 20th-century Black communities, and the intersection of gender and race. Part of the Vanderbilt faculty since 2007, she also holds appointments in History and American Studies.
"I started taking history courses because I realized that so many of the classic novels I was reading were deeply rooted in history. Dickens, the women writers of that period, Herman Melville—you had to know something about history to really get the most out of those novels," Patterson said.
At the same time, however, she noticed that her history and literature professors rarely, if ever, included Black people in their syllabi. It was as if "we weren't a part of the world," she said. One professor seemed interested in Black history and even invited Patterson to accompany her to Europe—only for Patterson to realize that she was filling a role suited to a servant, not a research assistant. She returned home early from Europe to help care for her ill mother, but she was now determined to attend graduate school and help rectify the erasures and racism she'd encountered in her studies.
Patterson's path to that goal ended up being a winding one. While pursuing a Ph.D. in the comparative history of African peoples, she became interested in how her research intersected with the emerging field of women's studies. Her efforts to pursue the connection, however, ended in exhaustion and frustration when white colleagues proved resistant to collaboration, even hostile. To recover and reset, Patterson traveled to rural Iowa, where she taught undergraduate courses on the African diaspora for four years at a small liberal arts college. The experience convinced her that college teaching and research were her calling, and she returned to graduate school and completed her doctoral exams. She won fellowships at both the University of Rochester and the University of California, Santa Barbara (UCSB) to complete her dissertation—but, being a first-generation college graduate and Ph.D. student, she didn't realize she could potentially use both awards. Rather than negotiating a deferral so she could pursue the two fellowships in succession, she turned down UCSB and went to Rochester.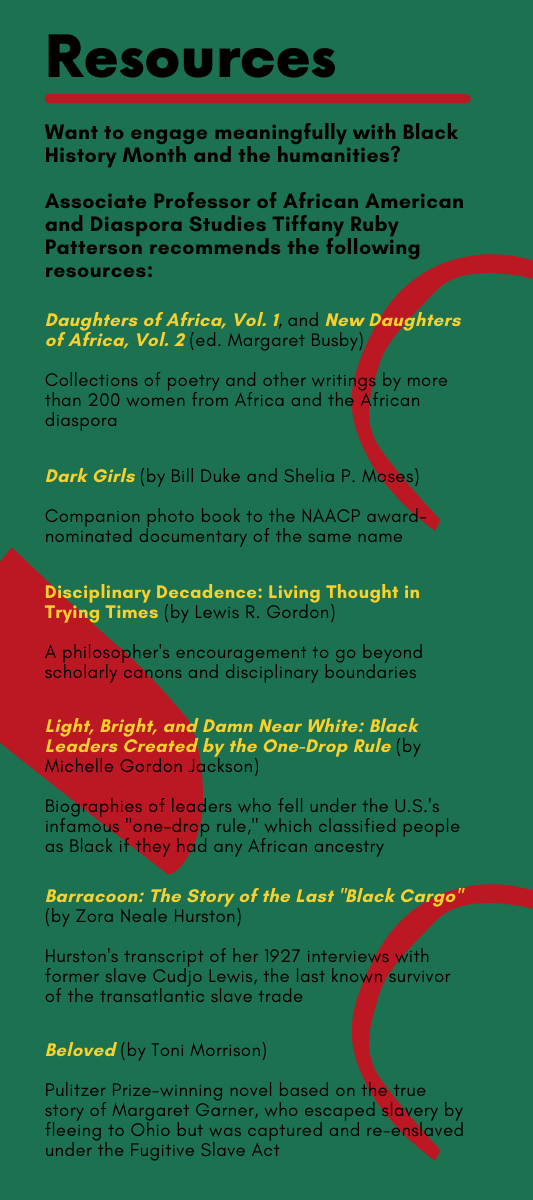 At Rochester, Patterson served as an instructor and benefited from the mentorship of professors who encouraged her love of both history and literature. For her early research, she turned to her beloved novels and other unconventional sources, such as Zora Neale Hurston's ethnography, to help her uncover the history of Black communities. "Not all populations are the same, and if you aren't open to step outside the rules of the canon, you leave out a significant part of the population," Patterson said. "[Influential historian] Gertrude Himmelfarb was deadly in saying that history is only about great thinkers and great leaders. I don't believe that. I think history is also about the downtrodden and the slaves"
Patterson focused on Florida's Black turpentine workers of the early 1900s, who were sometimes literally imprisoned in work camps—arrested for petty crimes and then turned over to corporations to be used as de facto slave labor. Many of the workers didn't have birth certificates; in some cases, the only written documentation of their existence was in the personnel and company-store records of the corporations that exploited them. Patterson's willingness to use these sources, along with in-person interviews and context from Hurston's novels, didn't sit well with many of her colleagues. "To them, I wasn't doing legitimate history," she said. "But I wrote the book anyway."
Through her research, Patterson didn't just push the boundaries of her field, she also expanded her own understanding of the Black experience in the Americas. As her understanding grew, her research grew, eventually including the experiences of the African diaspora in Europe and the Caribbean, as well as intersectional issues such as beauty and the politics of Blackness.
Patterson joined the Vanderbilt faculty in 2007 and now brings that boundary-pushing intersectionality into her classroom. She loves the creativity and challenge of designing interdisciplinary courses that give students a more holistic picture of racial issues. The questions and materials discussed in her classes often make students uncomfortable, sometimes shock them, and sometimes leave them (and her) heartbroken. That, she believes, is the power of the humanities: to make real the emotional toll of racism and open students' eyes to the inhumanity of injustice.
"I try to show my students the difference between a historical text, which is supposed to be 'factual,' and a novel, which is free to explore emotion. This 'objectivity of history' at times conceals a part of humanity that can be achieved in novels. In literature, students are free to explore other questions that you may not pick up on in a history class," Patterson said. "Toni Morrison talks about it as giving her characters an address—something as simple as a house with a number on it—that puts them in a place of freedom. A trans-disciplinary eye allows you to see things you can't see if you're bound in rigid categories."
In a university environment, Patterson said, Black History Month is a reminder "to ensure that every student grapples with issues of racial justice and gender matters." As a faculty member who has worked on a variety of diversity initiatives, she hopes the university will continue moving toward a point where all students have meaningful interactions with peers and faculty of other races during their time here. She also encourages everyone to have difficult conversations on uncomfortable topics—the kind students experience in her classes every day.
"Black History Month should be an honest confrontation with the truth," she said. "Carter G. Woodson [a Black historian and the creator of Black History Month] was born to slaves, and he wanted to tell their history. That doesn't mean this month can't be about current issues, but we need to uncover the roots of the issues we're experiencing today. If we confront them, then we can solve them."