Vanderbilt Debate overcomes COVID-19 challenges to break new ground in civic engagement
One year ago, Sahil "Sael" Soni '21, a chemistry and economics double major, had just returned from a blue-ribbon performance in Vanderbilt Debate's first-ever international competition. He was looking forward to finishing the 2019-2020 season on a high note, as were his teammates. For the last 30 years, Vanderbilt Debate has been a national leader, and the 2019-2020 season was shaping up to be one of the best yet. The students were eagerly anticipating their appearance at the upcoming U.S. nationals.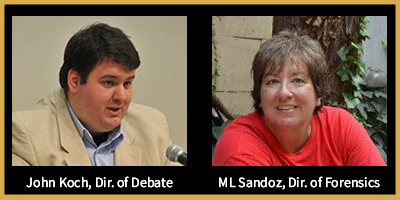 Then COVID-19 struck. National debate organizations cancelled their end-of-season competitions, and Debate's seniors missed out on the customary end-of-year recognition for their stellar records of achievement. Director of Debate and Communication Studies lecturer John Koch began to wonder if he'd picked the worst possible year to make significant changes to the organization: besides adding international competitions to the group's schedule, he'd added a new format to their repertoire.
Previously, Vanderbilt Debate focused exclusively on British Parliamentary style, where four-person teams debate a topic assigned just minutes before the debate takes place. Starting with the 2019-2020 season, however, the group also participated in civil debates. This format gives teams months to research a timely, real-world issue such as climate change or immigration. Judges are typically professionals in a related field, and students either present their ideas directly to a panel of judges or debate with other teams.
Far from being a drawback, however, Koch's addition of civil debate opened the door to two of Debate's most interesting competitions yet: the Schuman Challenge and the Intercollegiate Advocacy and Dialogue competition, both held virtually in October 2020. The Schuman Challenge, hosted by the European Union's delegation to the United States, required students to research how the U.S.-E.U. partnership should respond to China's alternative models of government. Vanderbilt chose to address the issue by focusing on relations with Huawei, a China-based technology company that is currently not allowed to operate in the U.S. but does business in Europe.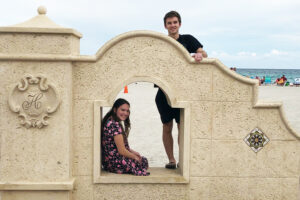 The Schuman Challenge team included Amanda Schremmer '21 (English), Agneetta Moisio '22 (Economics), and Keely Wilson '22 (Political Science and Medicine, Health, and Society). All three said they enjoyed the in-depth research required by the debate, both for what they learned about business and technology and for the way the project honed their collaborative skills. They also appreciated the interaction–virtual though it was–with subject-matter experts. Their judges were career diplomats from the European Union, people well-versed in the unique challenges of navigating relations with China.
"In academia, we're always thinking theoretically, but the point of the Schuman Challenge was to come up with practical applications for the issues," Wilson said. "Getting feedback from professional diplomats helped clarify things for us. I really like it when our topics are highly relevant in a particular time and place."
That connection between real-world policy and debate is exactly why Moisio wanted to join the team. Hailing from Jyvaskyla, Finland, Moisio has a background in youth politics. She said she knew that debate would help her learn to "think on my feet" in English, but her passion for civic engagement is what really prompted her to join. An aspiring diplomat, she enjoys the camaraderie of students—both from Vanderbilt and from other schools—who are curious about the world beyond U.S. borders.
"Debate competitions are a great place to talk to people who are smarter than you. There's always someone who is knowledgeable and willing to talk to you about the different angles for a specific topic. Everyone in debate understands that things are rarely black and white," she said.
The Intercollegiate Advocacy and Dialogue competition (ICAD), hosted by Vanderbilt, Emory University, and the Atlanta-based National Center for Civil and Human Rights, directed students' desire for civic engagement to another timely issue: racial justice. Participants had to research and virtually present proposals for how to handle the many Confederate monuments that dot Southern cities. Matthew Sohn '23 (Political Science and History) and Aryanna Ramsey '22 (Biological Sciences and Human and Organizational Development) represented Vanderbilt Debate, winning an honorable mention for Exemplary Written Argumentation and an award for Exemplary Oral Defense and Argumentation. Medicine, Health, and Society Writer-in-Residence Caroline Randall Williams, whose New York Times essay on Confederate monuments went viral over the summer, served as moderator for the competition's online "Evening of Dialogue."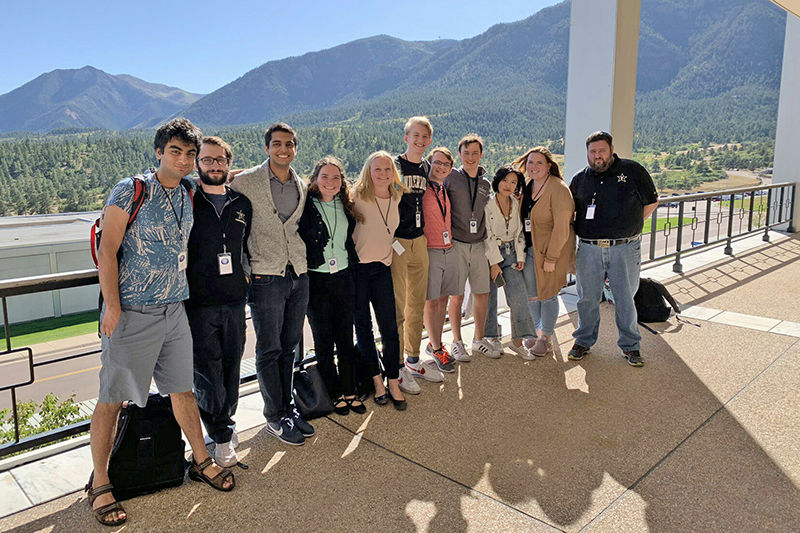 Debate has been an eye-opening experience for Ramsey, who came to Vanderbilt after attending the same small Florida school from kindergarten through twelfth grade. She said that both her debate class and the team have provided key support as she's learned to navigate a much larger school and city. They've also introduced her to people from unfamiliar backgrounds, and events like ICAD have exposed her to ideas she didn't encounter while growing up. "In high school, we read about presidential history or the world wars. They were really big and really relevant, but we never learned about Confederate monuments. I realized that I was failing to recognize the history that took place on the ground that I walk on every day," she said.
According to Randall Williams, this kind of horizon-expanding experience is the reason events like ICAD are so important. "Engaging with these hard civic and social justice questions can be anybody's work, in the best way," she said. "We need students' ideas, and we need to build their sense of ownership and their sense that they can weigh in and wade in."
Though ICAD and the Schuman Challenge broke new ground for Vanderbilt Debate, the organization's civic spirit goes back much further. Since 2011, Debate has been working with Free Speech: The Movement, an organization co-founded by Director of Forensics and Communication Studies lecturer ML Sandoz and several local schoolteachers. The program brings debate education to schools with a high percentage of underserved students, many of whom struggle with discipline problems, academic underachievement, or poverty. Sandoz said teachers tell her that the program generates "remarkable improvement"—not just in students' grades, but in their lives as a whole.
Both Koch and Sandoz see that same "whole-person" impact on their own students' lives. They said that debate refines participants' research, communication, and critical thinking habits in a way that provides unparalleled preparation for graduate school and the business world.
"I get so many letters from debate alumni who say, 'Thank you–I never realized how much I was gaining until I got to grad school and realized how far ahead I was'," Sandoz said. "Debate opens a student up to different perspectives, a deeper understanding of the world around us, and connections with the future leaders in their fields."