Samar Ali, JD'06, BS'03, joins Political Science, Law School faculties as research professor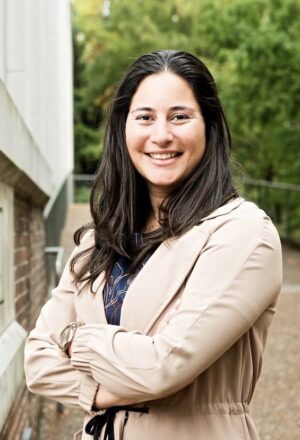 Samar S. Ali, JD'06, BS'03, has joined the Vanderbilt faculty as a research professor in political science and law, with a focus on international law and conflict resolution. Her appointment was announced by John Geer, Ginny and Conner Searcy Dean of the College of Arts and Science and professor of political science, and by Chris Guthrie, dean and John Wade-Kent Syverud Professor of Law.
"Samar brings innovative, diverse, international perspectives to her work that will enhance the university's mission of discovery, learning, and service," Geer said. "We are thrilled to have her join our faculty and advance national conversations on pressing issues facing our community and the world."
Ali graduated from Vanderbilt in 2003 with a B.S. in political science and again in 2006 with a J.D. from Vanderbilt Law School. She has served in a variety of federal and international legal roles, including as a law clerk in the U.S. and South Africa, a legal fellow specializing in counterterrorism with President Barack Obama's administration, and an election observer in Egypt.
Returning to Nashville to practice law, she served in Governor Bill Haslam's administration before joining the law firm of Bass Berry & Sims, where she focused her practice on national security and cybersecurity law. She also co-founded boutique consulting firm Lodestone Advisory Group and nonprofit Millions of Conversations. The latter seeks to unite Americans around common values by fostering dialogue between those who hold different opinions, views, or beliefs. Millions of Conversations has served as a key partner for a variety of initiatives at Vanderbilt, including the College of Arts and Science's Engine for Art, Democracy, & Justice.
Ali holds a variety of advisory positions and honors related to her work in human rights and international law, and her work has appeared in The New York Times, The Wall Street Journal, The Tennessean, and elsewhere. She will take a leave of absence from her legal practice at Bass Berry & Sims to join the Vanderbilt faculty.
Read the full announcement of Ali's appointment.