Political science course helps undergraduates connect to Vanderbilt's long military history

A little more than one hundred years ago, rows of young men stood at attention for a portrait in front of Kirkland Hall. Their wide-brimmed campaign hats and their crisp brown uniforms signaled their impending journey. After this historic photo was taken, the very first cadet corps from Vanderbilt University left to serve in World War I. From Donald Davidson (BA1917), who served as a first lieutenant in the Meuse-Argonne Offensive, to A&S student and football All-American Irby "Rabbit" Curry, who perished in aerial combat over France in 1918, the legacy of these first cadets is visible across campus today. Their presence can be felt in the names etched into the walls of Alumni Hall, in the cadets who still walk our campus as part of today's Reserve Officers Training Corps, and in the military courses offered throughout the university.
One of these courses is taught by Katherine Carroll, an assistant professor of political science who has also worked with the U.S. military in Iraq. From 2008 to 2009, she served as an on-the-ground advisor, providing the U.S. military with cultural and social context about Iraq. When she first began this work, Carroll said, she quickly realized how much she didn't know about the military itself.
"I didn't know the symbols for ranks, or anything about how they operated. I had a Ph.D. in political science, but while I'd had the opportunity to take many classes about war and foreign policy, I had never had the opportunity to learn about the military as an institution," she said.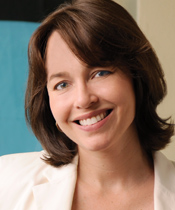 After returning from Iraq, Carroll began crafting an undergraduate course that could fill in some of the knowledge gaps she had experienced while working with the military. She is teaching the course online this fall under the title The United States Military, covering everything from the Founders' fears of a standing army to the tactical mistakes of recent campaigns. The course is intended to give students a broad swath of knowledge about one of the largest institutions in our country.
This base of knowledge is valuable to all students, Carroll said: "Whether students want to be critical of the military or to praise it, I want them to do it from a place of factual knowledge. Surveys show that Americans have extraordinarily high levels of trust in the military and very low levels of knowledge. Just for our students as citizens, I want to chip away at that lack of knowledge."
This civic duty to learn about one of our most significant public institutions is something Amelia Patterson ('21), believes any student can benefit from. The political science and human and organizational development major said, "It's not a course that you have to be seriously interested in the military, combat, or war to enjoy. I enrolled because I knew Dr. Carroll was such a great professor from another course. She is a very skilled lecturer because she boils down complicated topics to make them digestible, and she tries to make lessons relate to our lives in some way."
In addition to deep dives into military topics, Carroll's students often learn about the more personal side of service through their ROTC classmates and through the special military guests who often drop into their Zoom classes. Each year, Vanderbilt's ROTC leaders and others with military-related expertise have been generous in coming to speak, supporting the students' research, and answering questions, Carroll said. Their participation helps to bridge the gap between the students' lives and the military as an institution.
For the students who will go on to serve in the military, work in government, or work alongside military institutions, the benefits of this course are more tangible. Srish Kumar ('23), a psychology and political science major and student in this semester's class, is planning a career in international relations. "The knowledge I take away from this class will be extremely useful in providing me with context about how militaries are constructed, and how these militaries interact with the political and social constructs of society," he said.
As an added element to the course, Carroll's students are also helping to develop chapters in a political science textbook that Carroll is co-authoring with Arts and Science alumnus Major General Bill Hickman (BA'83), who recently retired after 36 years of service. Carroll said that she believes theirs will be the first political science textbook to fully introduce undergraduates to the military as an institution. The research her students are doing today will inform the students of tomorrow, and with that continuation of learning, today's students honor those young men who stood together for that portrait more than a century ago.