Dr. Jonathan Metzl Wins Award for Career Contributions to Psychiatry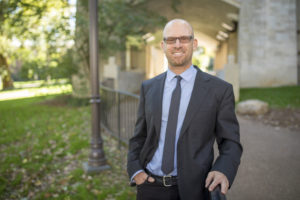 Dr. Jonathan Metzl, the Frederick B. Rentschler II Professor of Sociology and director of the Department of Medicine, Health, and Society (MHS), has been named the recipient of the 2020 American Psychiatric Association's Benjamin Rush Award. The award recognizes an individual who has made significant contributions to the literature on the history of psychiatry. In particular, the Association cited Metzl's contributions to understanding how stigmas against mental illness intersect with cultural biases about race and socioeconomics, as well as his pathbreaking work understanding American gun violence. In addition to his positions in the College of Arts and Science, Metzl is a professor of psychiatry at Vanderbilt's School of Medicine.
Metzl's work often stands out due to his unique interdisciplinary background in medicine, the humanities, and social sciences. Dr. Philip R. Muskin, a professor of psychiatry at the Columbia University Irving Medical Center, sat on the APA board that nominated Metzl. He said the characteristics of Metzl's work provide important context to mental illness: "Without history we can only repeat the mistakes of the past. It is only via the work of people such as Dr. Metzl that we can remain alert and informed, given the many forces outside of the clinical environment that control access to care for those with mental illness."
As part of his award, Metzl presented a lecture entitled "Mental Illness, Mass Shootings, and the Politics of American Firearms," pulling from his research on gun violence. Metzl's expansive research explores topics ranging from racism to politics and economics. A 2008 Guggenheim fellow, Metzl has written extensively for medical, psychiatric, and popular publications, along with publishing four of his own books.
While immensely honored by the award, Metzl said he is equally grateful for the recognition it provides to his field and to others doing similar work. When Metzl began his career, scholars rarely combined expertise in the clinical side of psychiatry with an understanding of its historical and social aspects. He credits the Robert Wood Johnson Foundation's Clinical Scholars program with enabling him to earn a Ph.D. in cultural history while he completed his medical fellowship. Metzl remembers that the early years of his career included a relatively small number of people who had M.D.s and Ph.Ds.
"People were divided. Either you were a doctor, or you were a historian. It's been great to see over the course of the past decade or so that there has been a growth in people, not just working on these topics, but also joining the discipline," Metzl said.
The topics of Metzl's books indicate the broad range of subjects he has studied during his career. Metzl's first major project was Prozac on the Couch, a deep dive into pharmaceuticals and the role that psychiatric drugs play in American society. An excerpt from the book notes that "[i]n the realm of the normal are these circumscribed categories illness and health, man and woman, biology and psychoanalysis, and other modes of expression that presuppose the stability of unstable categories." These words hint at the kind of sustained and critical analysis Metzl would apply to the culture around psychiatric drugs—and every other topic that crossed his path during his career.
He went on to write The Protest Psychosis: How Schizophrenia Became a Black Disease in 2010, leading an important dialogue about how schizophrenia and race became intertwined, resulting in African American men being over-diagnosed with the disorder.
His latest book, Dying of Whiteness: How the Politics of Racial Resentment is Killing America's Heartland has taken him across the airwaves, from Real Time with Bill Maher to C-SPAN, and into print publications like The New York Times. Metzl summarizes this latest book as a look at white America and gun suicide, and why we blame mental illness for gun violence.
"This narrative of 'guns are a mental illness problem'—which is what we hear—is something that plays into stereotypes about race and about people with mental illness being ticking time bombs," Metzl said. "Part of the work I do is recognizing that this is a very stigmatizing representation, and it gets us farther away from talking about many of the deeper issues with guns."
The relationship between mental illness and gun violence ties deeply into Metzl's work in the College of Arts and Science's Department of Medicine, Health and Society. The department's research and pedagogical focus is rooted in an interdisciplinary understanding of illness and the varying factors that surround and affect it. In Metzl's opinion, the ability to see the social context around illness is an especially useful skill set right now. He believes that, during the COVID-19 pandemic, people with this kind of dual training can serve as important cultural spokespeople for explaining the larger context of what's happening.
"You can't just understand illness as a biological entity—and we're learning so deeply that illness is political, it's economic, and it's historical. Hopefully the kind of work that I do, and the work that we do at MHS, is showing its urgency at this particular moment" he said.
Metzl wants to help people understand—and overcome—the obstacles that make it harder to talk about hot-button issues across political and social divides. He wants his body of work to open up pathways for people to talk constructively about difficult issues. As someone who has made a career out of joining psychiatry with the studies of race, gender, and society, Metzl has wrestled with many divisive issues. But he doesn't shy away from hard subjects.
"Part of the lesson for me has been that it's what we should be doing—taking on the hard topics," he said. "I feel like joining these two careers together has given me the methods and the community and the support to address, in a respectful way, some of the hardest challenges facing the United States."