Arts and Science Students Share Humanitarian Experiences with Donors, Fellow Students
At an October 29 reception, College of Arts and Science students spoke about projects supported by the Nichols Humanitarian Fund and expressed their gratitude to donors Edward and Janice Nichols. Established in 2006, the fund supports undergraduate and graduate students in completing humanitarian endeavors in the U.S. and overseas. Twenty of the 27 award recipients for 2019 are students in the College of Arts and Science.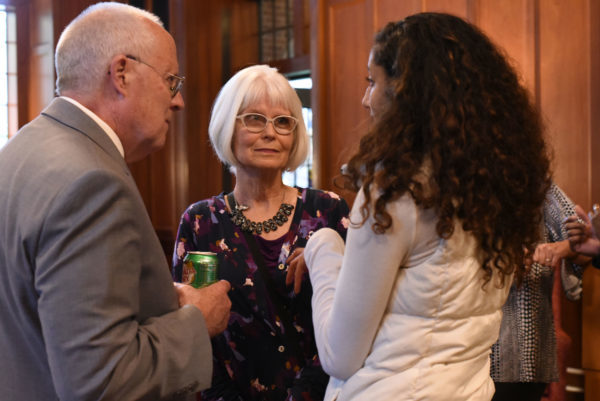 These recipients come from a variety of majors and backgrounds, and the work they completed reflects that diversity. Funded projects took place on four continents and included endeavors in public health (Ecuador), child welfare policy (Romania), species survival (the Maldives), care for sexual violence survivors (Kenya), health care access (Vietnam), and more.
Evelyn Mulyono '22, an Economics and Computer Science double major, used the Nichols award to return to her home country of Indonesia to assist refugees. Indonesia is a "transit country," where refugees are not allowed to settle permanently. The refugees' status, Mulyono explained, means that they must live in temporary camps and have no access to legal work or education opportunities outside the gates. She worked with an agency that provides in-camp employment through the manufacture of uniforms, along with math and English education for children in the camps.
"The refugees taught me to appreciate and to share what I have," Mulyano said. She mentioned several occasions where refugees generously shared food or goods with her, despite their own meager supplies.
Neuroscience major Jenna Collazzo '21 traveled to Paros, Greece, to volunteer at the island's only animal shelter. Locals there believe that neutering male animals leads to undesirable changes in their temperaments, she said, so the area has an overwhelming number of stray and neglected animals. The shelter where she volunteered houses roughly 350 dogs and cats and feeds an additional 400 cats per day. Among other duties, Collazzo fed and exercised the animals, cleaned their cages, and helped socialize dogs to make them more adoptable.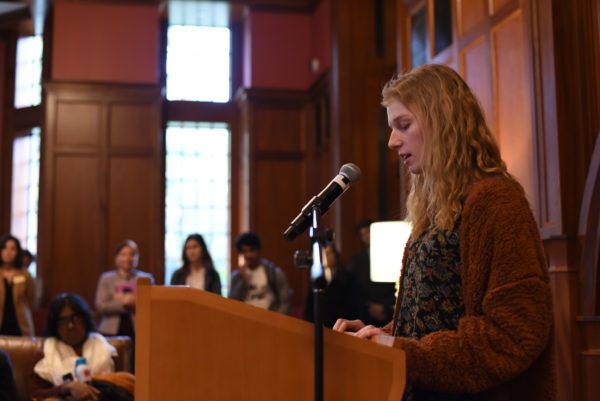 "The effect on the animals reminded me of the importance of the human touch, something I hope I'll remember as I enter the medical field," Callazzo said.
As a result of her project, Callazzo realized she'd had an "insular perspective" on animal welfare and not fully appreciated the scope of the problem, or the difficulties of solving it in an economically struggling country. The trip helped her understand the need for creative solutions that are practical for workers on the ground.
For Mulyono, the experience was humbling and a lesson in flexibility. She had initially expected to assist with sewing projects but quickly realized her sewing skills were below the standard the refugees were meeting. Instead, she took on custodial and ironing duties and taught math skills to children. Her trip was also a reminder of the power of resilience and the importance of compassion.
"I realized how powerful it is to remain brave despite hardship," she said. "Just because these individuals are less lucky doesn't mean they deserve less."
Applications are now open for 2020 Nichols Humanitarian Fund awards. Interested students should visit the Nichols Humanitarian Fund website and apply by December 16 at 12 a.m. Please contact immersion@vanderbilt.edu with any questions.